Richard Nwankwo has melted the hearts of many as the pictures of his protest in Texas in support of protesting lawyers in Lagos ,Nigeria emerged on his social media pages ,Courtroom Mail reports.
Richard is a co  founder of Crusade for Justice, a Nigerian based Human Rights group.He is a also a member of the Nigerian Bar Association,Ikeja branch in Lagos State capital .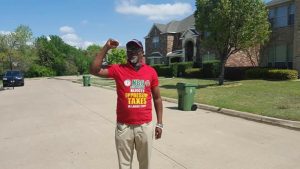 Last month,the government of Lagos State introduced a draconian Land Use Charge which the people of Lagos considered exploitative.In an effort to resist the bad Law,Lawyers in Ikeja,the capital of Lagos took to the street to protest the law and the Lagos state government succumbed under the heavy weight of the people of Lagos State and announced a 50% slash in the charge.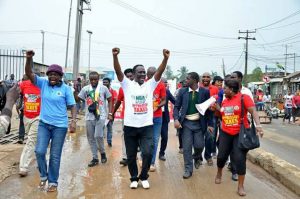 The Nigerian Bar Association,Ikeja rejected it and attended an inconclusive public hearing slated subsequently at the Lagos State House of Assembly.
On the 29th of March,the President of Nigeria was billed to visit Lagos and Ikeja lawyers have also slated a protest for that day.By then Richard Nwankwo a vibrant member of the Ikeja Lawyers was in the United States and could not be part of the protest.
The protest took place after several efforts to frustrate it by the Nigerian Police but Richard was not there because he was away in the U.S so could not participate like he did the first time.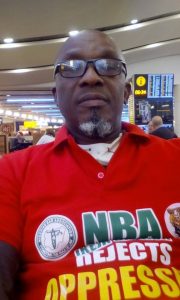 Thousands of miles away, Richard was not deterred,he joined the protest wearing the Tshirt printed for the protest and moved around in the U.S as much as he could.The pictures of him wearing the tshirts melted the hearts of internet users across the world.