The respected former leader of the biggest branch of the Nigerian Bar Association(NBA),Martin Ogunleye has declared his support for Paul Usoro SAN in the forthcoming election of the Nigerian Bar Association .
Since the bid for elections began, many of the the candidates especially the presidential candidates have had their heart beating and waiting impatiently for the close of nomination when  Martin Ogunleye will declare his support for any of the candidates.
Martin who was the former Chairman of the NBA Lagos branch,is known for his unshakeable loyalty and consistency with his decisions when he takes a stand.He has now done it and for the 2018 election,  he will be standing with Paul Usoro SAN.
In a letter dated 4th of June 2018 made available to Courtroom Mail, the former Chair said that he is excited by the aspiration of Paul Usoro and will be involved in running his campaign when the ban is lifted.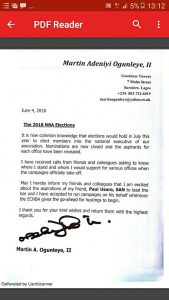 Martin Ogunleye's association with Paul Usoro is already changing the permutations of the election particularly in Lagos where his teeming loyalists have queued up behind him already .