Ethical rules govern all conduct of legal representation (lawyers) before the courts. A lawyer is said to be guilty of professional misconduct before a court, for instance, when he brings an unnecessary or frivolous proceeding to the court; offers false evidence, or unlawfully obstructs the opposing lawyer's access to evidence.
It is also professional misconduct to attempt to influence the court by illegal means, such as inducement or coercion, or states personal opinions regarding the even-handedness of a cause or the credibility of a witness.
Altogether, lawyers are forbidden from communicating directly or indirectly with the court in a matter unless the same receive permission concurrently from the opposing lawyer.
The Rules of Professional Conduct makes provision for the Duty and conduct of lawyer to court. In Nigeria, Part D of the RULES OF PROFESSIONAL CONDUCT FOR LEGAL PRACTITIONERS, 2007 regulates the relationship with the court. Rule 31 (4) & (5) states as follows: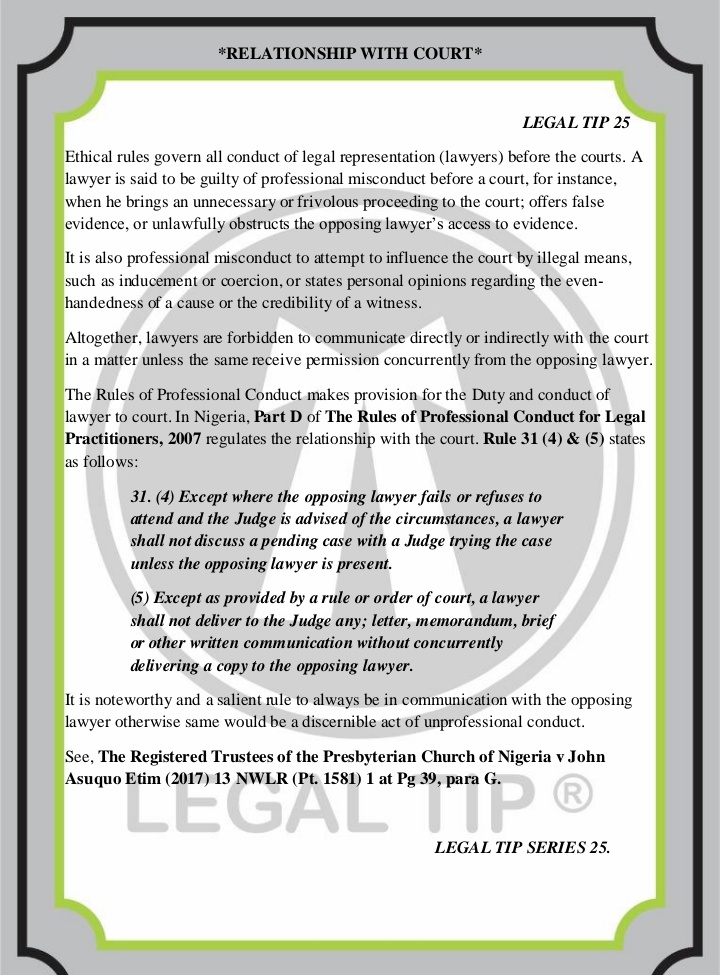 (4) Except where the opposing lawyer fails or refuses to attend and the Judge is advised of the circumstances, a lawyer shall not discuss a pending case with a Judge trying the case unless the opposing lawyer is present.
(5) Except as provided by a rule or order of court, a lawyer shall not deliver to the Judge any; letter, memorandum, brief or other written communication without concurrently delivering a copy to the opposing lawyer.
It is noteworthy and a salient rule to always be in communication with the opposing lawyer otherwise same would be a discernible act of unprofessional conduct.
See, The Registered Trustees of the Presbyterian Church of Nigeria v John Asuquo Etim (2017) 13 NWLR (Pt. 1581) 1 at Pg 39, para G.
LEGALTIPS is anchored by Ms CIA Ofoegbunam, an Abuja-based lawyer who is passionate about legal practice.
LEGALTIPS offers quick hints on substantive law, as well as rules of practice and procedure, and serves as a handy reference guide to lawyers, especially in court.
Published on a weekly basis, the LEGALTIPS Series is CIA's modest contribution to legal development in Nigeria.