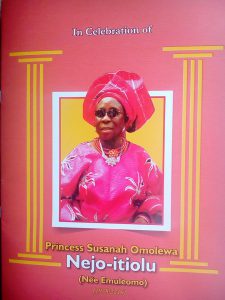 Princess Susanah Omolewa-Nejo –Itiolu  the mother of Mrs Olufunmi Oluyede,the former Treasurer of the Nigerian Bar Association,Chairman of International Federation of women Lawyers,Lagos and Former Chair of International Bar Association African Regional forum was buried on Saturday 17th of December 2016 at  Itebu-Kumi,Ondo State,Nigeria.
Princess Susanah Omolewa was born in Itebu Manuwa on the 29th of April 1938 to the distinguished royal families of Chief James Emuleomo of Itebu Kunmi,Ondo Stata and Madam Emily Emuleomo(nee Demehin) of Itebu Manuwa,Ogun State,Nigeria
She had a prolific teaching career that began in 1954 until she retired in 1989.
Mrs Oluyede who was also supported by her husband Prince Oluyede a well known Nigerian Lawyer was host to the crème de la crème of the society including Members of the Nigerian Bar Association and International Federation of women Lawyers (FIDA).
Among those present  from the Law Community were Stella Ugboma,former President of FIDA,Martin Ogunleye,Chairman Nigerian Bar Association, Anthony Atata, Newsletter editor, International Bar Association -African Regional Forum and Senior Advocates of Nigeria.