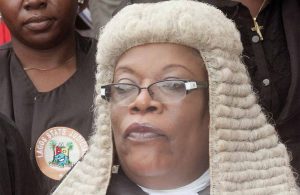 The National Judicial Council has approved the appointment of three more judges for the high court of Lagos State.
The Assistant Director of Public Affairs at the Lagos State High Court, Mrs. Grace Alo, said in a statement on Monday that the NJC gave a nod for the appointment of the judges following a recommendation by the Lagos State Judicial Service Commission.
The three new judges, the statement said, would be sworn in by the Lagos State Governor, Mr. Akinwunmi Ambode, at 12pm on Wednesday, March 8, 2017 at the Banquet Hall, Governors office, Alausa, Ikeja.
The three persons approved by the NJC to be sworn as judges are the current Director of Public Prosecutions in Lagos State, Mrs. Idowu Alakija; the current Chief Registrar of the Lagos State High Court, Mr. Emmanuel Ogundare; and the current Deputy Chief Registrar, Special Duties,
Miss Serifat Solebo.
The swearing of the three new judges would raise the number of serving judges on the Lagos State High Court bench from 54 to 57.
The Chief Judge of Lagos State, Justice Olufunmilayo Atilade, who is also the chairman of the Lagos State Judicial Service Commission, had in September at the commencement of the 2016/2017 legal year lamented that judges in the state were overworked and called for appointment of more judges.
punchng