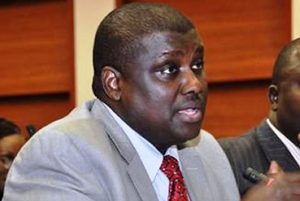 The Senior Special Assistant to President Muhammadu Buhari o Media and Publicity, Garba Shehu has said that the international police, INTERPOL, has issued a fresh warrant for the arrest of the wanted ex-Chairman of Presidential Task Force on Pensions reforms, Abdulrasheed Maina, Buhari & Maina Shehu, while speaking on Channels Television's Programme, Politics Today, Maina has been put on the wanted list for re-arrest by INTERPOL. "In fact, the Interpol just put Maina on their wanted list now.
A fresh warrant has been issued for his re-arrest." "And all the cases – you know there are a number of ongoing cases in the country which he would have been a part of. Now he is back home, he is going to have his day in court. "People just sat down and were receiving cash from that man, knowing full well that it was the police pension that he was sharing. People who ought to investigate him,  who ought to send him to trial, beneficiaries of that heist.
In the coming days, the President will decide and all of these things will come out," Shehu said. "The matter is being investigated from all fronts. The EFCC, for example, is discovering more and more properties and its officials are sealing them. They are also looking at banks and all that. In fact, this investigation will also touch some foreign countries." Although President Muhammadu Buhari's order that Maina be flushed out of the federal Civil Service for an  alleged large scale scam and abscondment from duty post, his family has risen in strong defence of the suspect, describing him as a messiah, who was persuaded by Buhari's men to come back from exile to help in sanitising the pension system.
Family members of Maina, in Kaduna yesterday, had accused unnamed cabal in the Buhari administration of haven invited Maina to come out of hiding and work with the government of Change only to be betrayed and persecuted. At a news conference in Kaduna on Wednesday, the spokesman for the Maina family, Malam Aliyu Maina, flanked by Salihu Maina and Ladan Abdullahi, vowed to expose those in the Presidency behind his ordeal. Aliyu Maina said, "The entire family of Abdullahi Maina is categorically stating that our son is not in any way a fraudster, rather he is a messiah who brought reforms into Nigerian Pension Scheme, whose effort saw the disappearance of pensioners roaming the streets of Abuja and other state capital in Nigeria. "It is on record that Abdulrasheed Maina's reform put to a stop the fraudulent withdrawals of huge sums from both the Nigerian Pension Board, the Nigerian Police Pension Board etc.
Perhaps it is these noble efforts that made him enviable to the present administration when they came into power to convince him to come back and assist in its "change" agenda." He said they had noticed the recent attempt by the cabal to ridicule and tarnish the image of Maina family. "The cabals have gone to the extent of marking our house in red paints with an inscription of EFCC under investigation. The EFCC is wrong in their action because Abdulrasheed inherited so many properties from his late father in Kaduna and Abuja, some of them were built before he was born so how could he have acquired them fraudulently? "We are aware that all this act of calumny is not targeted against Abdulrasheed Maina alone but against the President of Federal Republic of Nigeria and the office of the Attorney General.
We have contacted our lawyers Messrs Mamman Nasir & Co and instructed them to act appropriately. "We equally know that Abdulrasheed Maina is in possession of many facts that are against the cabal and interesting to the Nigerian populace, which he will disclose very soon," the family boasted.
vanguard