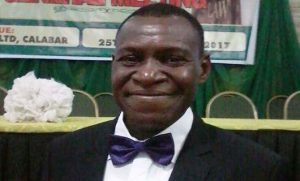 The quarterly meeting of Eastern Bar Forum,(an association of lawyers who practice or come from Abia, Imo, Enugu, Anambra, Ebonyi, Cross River, Akwa Ibom, Bayelsa and Rivers State) began today in Abakaliki the Ebonyi State capital.
The Governor of the forum, Arthur Elvis Chukwu will be presiding for the first time after being elected in June.
Paul Usoro SAN  on this occasion sent his good will message below  dated 19th of October  to the noble group.
19 October 2017
The Governor of Eastern Bar Forum
Sir Arthur Elvis Chukwu
Your Excellency
GOODWILL MESSAGE TO THE EASTERN BAR FORUM
It gives me a great pleasure to welcome the Executive Committee and the entire members
of the Eastern Bar Forum of the Nigerian Bar Association to our Quarterly Meeting. I
believe we all had our well-deserved rest during the Annual Court Vacation and are back
with renewed energy and vigour to pursue the sacred goal of enthroning rule of law and
justice.
As we all know, our profession places very challenging responsibilities on us to
champion the cause of the common man and the oppressed against exploitation,
oppression and illegality. I therefore call on every member of this unique Forum not to
relent on this daunting task of defending the rule of law against the rule of might. We
must ensure that in courageously carrying out our duty to our Clients, we do not also
forget our duties to the profession, courts and the public in facilitating the
administration of justice. These noble duties are, no doubt, challenging but with
determination, strength of purpose and unwavering faith in promoting the good cause
of humanity, victory shall be ours.
Moreover, while we selflessly fulfill our professional duties as lawyers, it is also
important that we do not forget our own well-being and welfare. I advise all of us to take
good care of our health and family. After all, charity begins at home. I fervently pray
God Almighty to endow and bless us with sound heath and the wherewithal to discharge
our roles and aspirations.
Long Live Eastern Bar Forum!
Long Live the Nigerian Bar Association!
Long Live the Federal Republic of Nigeria!
Yours sincerely
Paul Usoro SAN, FCIArb