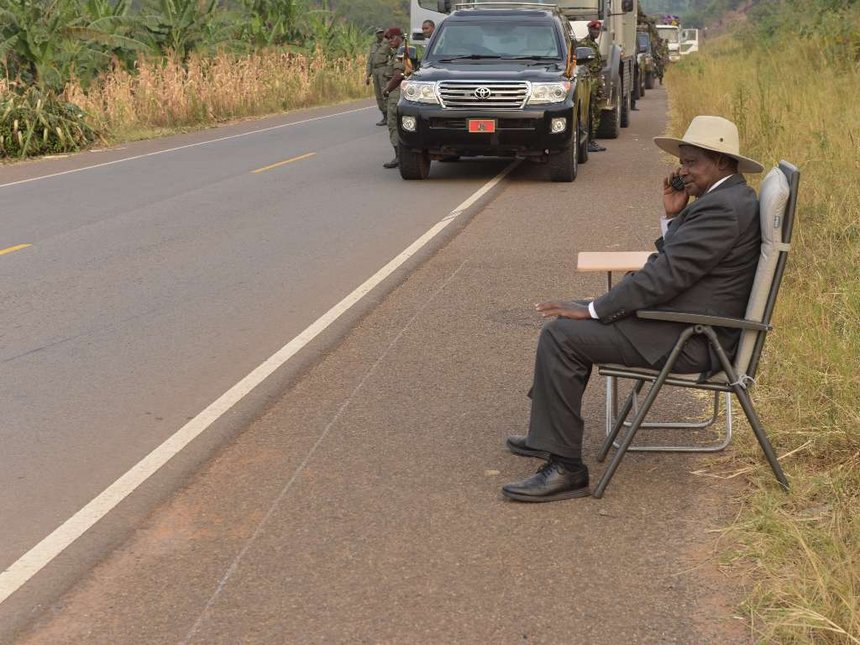 Ugandan President Yoweri Museveni surprised residents of Kyeirumba village with a roadside phone call using a cheap ' kabiriti' on Monday.
He sat on a chair by the road and spoke on the phone for about 30 minutes, as his security detail waited. He directed the officers not to block traffic.
Museveni was on his way from Isingiro district where he presided over World Population Day celebrations.
He acknowledged cheers from residents who milled around him with his trademark thumbs up sign.
After the call, residents lauded Museveni for tarmacking the 74km road that links Uganda to Tanzania through Kikagati in Isingiro district. The project cost USh178 billion.
The people asked the President to engage solar distributors in reducing the cost of batteries, which sell at USh400,000. They also want him to ask power distributors to supply electricity at a cheaper cost.
The President pledged to talk to stakeholders about reducing the cost of power in rural areas.
Facebook user Davis Joseph Weddi said: "M7 is a real human being like all of us, I can't doubt that."
"He even took time to speak with the villagers after that special phone call. I can guess what it must have been about but you can't rely on a guess. He is human indeed."
But Ntalo Robert wrote: "All those cars for one man when our hospital has no working ambulance? I imagine the residents were (not) amused!!"
Besweri Gusango said: "I can picture the guys who were driving in tail following his convoy cursing after being in stay for a whole or so 30 minutes waiting for the big man to finish his call and shake a few hands for traffic to flow again."
the –star.co.ke