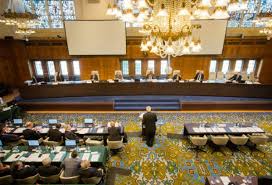 This morning, a tribunal of five judges at Hague-based Permanent Court of Arbitration issued a highly anticipated and unanimous award in Republic of Philippines v. People's Republic of China, a case filed in 2013 by Manila concerning maritime entitlements and the status of features in the South China Sea, among other issues.
The Tribunal's award is highly favorable to the Philippines, ruling that China's nine-dash line claim and accompanying claims to historic rights have no validity under international law; that no feature in the Spratly Islands, including Taiwan-occupied Itu Aba (or Taiping Island), is an island under the United Nations Convention on the Law of the Sea (UNCLOS); and that the behavior of Chinese ships physically obstructing Philippine vessels is unlawful.
Perhaps the most significant finding–and the one most likely to disturb China–is the Tribunal's award that China's nine-dash line and claim to historic rights in the South China Sea are both invalid under international law. Notably:the Tribunal concluded that, to the extent China had historic rights to resources in the waters of the South China Sea, such rights were extinguished to the extent they were incompatible with the exclusive economic zones provided for in the Convention.
Part of the Tribunal's reasoning on historic rights considered historical evidence, concluding that while China may have made use of the islands in the South China Sea, there was no strong evidence that China "had historically exercised exclusive control over the waters or their resources." This latter point is a particularly strong rebuttal to China's position and its rhetoric on the South China Sea.
The Tribunal's decision also rules that Chinese reclamation activities in the Spratly Islands, where the country has built seven artificial islands, are illegal under UNCLOS. Clarifying its reasoning for ruling Itu Aba–the largest South China Sea feature and one with a substantial Taiwanese presence–an island, the Tribunal said that under Article 121.3 of UNCLOS, the clause defining what constitutes an island, a "stable community of people" is a necessary requirement. Taiwan had submitted its case to the Tribunal for why Itu Aba should have been considered an island, claiming that the feature had the self-sufficient means necessary to sustain human life, including fresh water.
The Diplomat
NB.If you want us to forward the full Judgement of the court to your email,kindly indicate in the comment section