A matter pending at the High Court had suffered several previous adjournments at the instance of the Defendant whose counsel insisted on remaining within the Bar, robed while conducting its case in which he is both a party and a witness.
A legal practitioner who is a party to a civil suit cannot appear in person, even as a litigant conducting his case in person; He cannot represent and conduct a case of a co-defendant, he also cannot appear in two capacities in the same suit.
Legal Tips draws the attention of the legal practitioners to the provision in the Rules of Professional Conduct that states that a lawyer cannot remain within the Bar or be robed when conducting a case in which the lawyer is giving evidence or is a party in that suit else is guilty of gross professional misconduct.
The legal practitioner has undoubtedly violated the Rule of Professional Conduct Part D, Rule 36 which stipulates the courtroom decorum. Part D, Rule 36 (f) RULES OF PROFESSIONAL CONDUCT FOR LEGAL PRACTITIONERS 2007 states as follows:
When in the courtroom, a lawyer shall –
(f) not remain within the Bar or wear the lawyer's robes when conducting a case in which he is a party or giving evidence.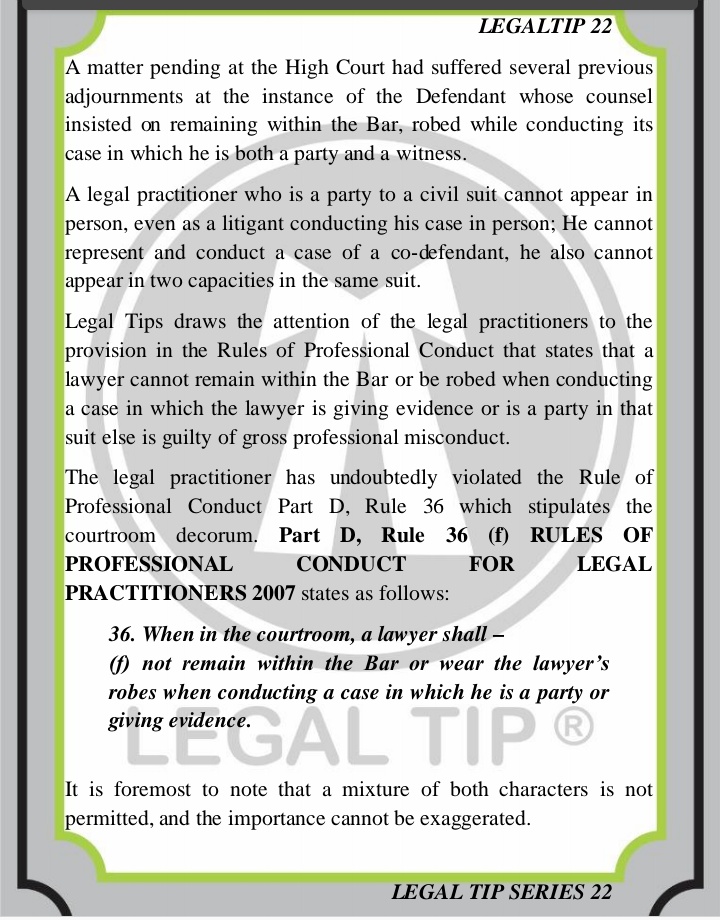 It is foremost to note that a mixture of both characters is not permitted, and the importance cannot be exaggerated.
LEGALTIPS is anchored by Ms CIA Ofoegbunam, an Abuja-based lawyer who is passionate about legal practice.
LEGALTIPS offers quick hints on substantive law, as well as rules of practice and procedure, and serves as a handy reference guide to lawyers, especially in court.
Published on a weekly basis, the LEGALTIPS Series is CIA's modest contribution to legal development in Nigeria.