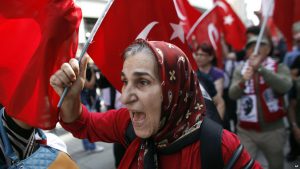 Turkey has abandoned plans for a controversial law that would have allowed men who had sex with underage children to be pardoned if they married the victim.
The reversal came after Parliament approved the bill in an initial reading on Thursday, and prepared for a second debate of the law on Tuesday.
Prime Minister Binali Yildirim told reporters the Government would ask an all-party commission to review the proposal.
The plans provoked fury in the country and saw thousands take to the streets on Saturday in protest.
Turkey's Government had insisted the law would help resolve the legal challenges caused by widespread child marriage in the country, but critics said the bill legitimised rape.
The law would have allowed men who sexually abused girls under 18 without "force, threat or any restriction on consent" and then married them, to have their convictions quashed or avoid prosecution.
The change would have applied to cases between 2005 and 16 November 2016.
The latest bill came after Turkey's constitutional court annulled part of the criminal code in July which classified all sexual acts with children under 15 as sexual abuse, a change that also prompted uproar.
Although the legal age of consent is 18 in Turkey, child marriage is widespread, particularly in the south-east.
The country has one of the highest rates of child marriage in Europe, with an estimated 15 per cent of girls married before their 18th birthday.
Independent.co.uk