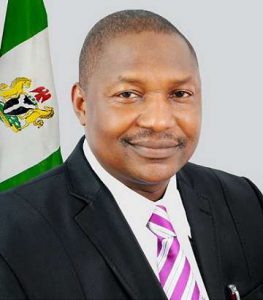 The Attorney General of Nigeria Mr Abubakar Malami (SAN) will tomorrow 13th of December 2016 come face to face with Nigerian Lawyers at a Human Rights Book Launch scheduled for 10am at the Nigerian Institute of International affairs.
Mr Malami who will be a guest of Honour at the event by  Global center for defence of Human rights has been at the epicentre of the current onslaught on the Judiciary. The exercise which has divided  the Law community in Nigeria  has been on the front burner with a supreme court Judge being arraigned on criminal charges. Many lawyers have been looking for an opportunity to engage the Attorney General..
The issues of human rights have come up in the  anti-corruption campaign of the present Nigerian government at various times.
The book written by a prolific  human rights researcher Mr Frank Agbedo titled Human Rights Litigation in Nigeria-Law,Practice and Procedure  will bring to the book launch on Tuesday 13th of December two states Governors,Former Chief Justice of Nigeria,LAGOS State  Chief Judge,Femi Falana a foremost human rights activist ,Lawyers from across Nigeria and the general public.
As 13th of December approaches,many Nigerian Lawyers are tapping their feet on the floor impatiently waiting  to be at the  book launch to engage the Attorney General on human rights issues bordering on the present government's anti-corruption campaign.
The event is hosted by Martin Ogunleye the Chairman of Nigerian Bar Association,Lagos.