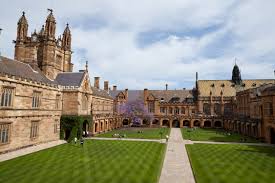 A University of Sydney business school tutor has resigned after coverage of allegedly derogatory comments he made about international students on social media.
Wu Wei, the head corporate finance tutor of the business school, resigned on Monday after reports he called mainland Chinese students "pigs" in Facebook posts last year.
He also allegedly accused Chinese students of cheating "due to low IQs" while using the username Pekojima on the Chinese microblogging site Weibo. His account has since been deleted.
"The Usyd finance course is very difficult, not sure how many international pigs will hire essay writer [sic] because of their low IQ," read one of the posts, translated from Chinese.
The posts were discovered by students in his class, prompting an investigation by the student newspaper Honi Soit and a university investigation of the tutor's conduct.
In a public post to Facebook, student Evin Wang expressed concern about Wu's posts.
"As a Chinese student, I feel very insecure in his tutorials and lectures, because of how clearly he shows his HATE towards China and the Chinese people. He makes me wonder, if he hates Chinese so much, how could he possibly teach Chinese students without any prejudice? Is there any chance that he could hurt us in his tutorial? How can we pay $4750 tuition fee per unit to get this kind of "tutor"?! WE DO NOT ACCEPT IT."
A petition calling for Wu's resignation that linked to screenshots and English translations of the posts to Weibo was circulated by the Sydney University Business Society last week.
Prof Greg Whitwell, the dean of the business school, confirmed that Wu had resigned as an employee of the University of Sydney and had issued an apology for the distress that his comments had caused.
In his apology circulated by the university, Wu said: "I would like to sincerely apologise for the inappropriate and disrespectful comments I made on the internet. I will refrain from such remarks in the future. I have also resigned from my employment at the University of Sydney.
"For those who felt hurt or offended by my online comments, I ask your forgiveness."
Whitwell said racist, sexist or offensive language was not tolerated at the university and that expectations for staff and affiliates were clearly set out in its code of conduct.
A university spokeswoman said that Wu would continue his research studies with the business school "after having been reprimanded for his actions", but was not specific about what that would entail.
Fairfax Media has reported suggestions that Wu has been targeted for his public criticism of China's ruling Communist party and his use of coded political slang popular with dissidents online.
His use of the obscure character tun instead of zhu, the more common character for pig, indicated that Wu might have been referring to international students with close links to the party, Fairfax reported.
A photo of his citizenship certificate posted to Weibo indicates that Wu became an Australian citizen in April last year. In another video, he was allegedly shown burning a Chinese passport he said was his own.
A counter-petition supporting Wu and expressing concern that he was "a victim of the Chinese government's increasingly intrusive attempts to curb voices of dissent among overseas Chinese" had more than 1,000 signatures by Tuesday morning.
"As Chinese-Australians, we do not interpret Mr Wu's passport burning posts or his comments about academic misconducts among Chinese international students as humiliation or hatred towards the Chinese ethnic group as a whole and believe many Chinese-Australians like us would share the same view."
Culled from theguardian.com