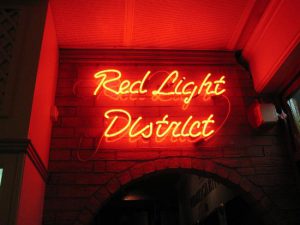 A man and a commercial sex worker were arraigned in Lagos on Wednesday on four counts of assault and conduct likely to cause breach of the peace before Magistrate A.A. Adefulire.
The charge arose from fighting that ensued when Yakubu a 51 year old man refused to wear a condom for the action which he agreed to pay N30, 000.00($95) for.
The lady known as Asuquo insisted on being taken home since Yakubu could not provide a condom. It was on the way home in the early hours of the morning that the fighting began when Yakubu said the petrol in his car wouldn't get him to Asuquo's house .She asked him to wait around until she gets a taxi since it was still very dark and dangerous at that time but he refused which made her seize his car keys leading to fighting that ended up breaking Yakubu's car windscreen and leaving her face battered.
According to Yakubu, Asuquo called two men who arrived in a golf Car and beat him up.
The two are presently in prison waiting to fulfil their bail conditions.