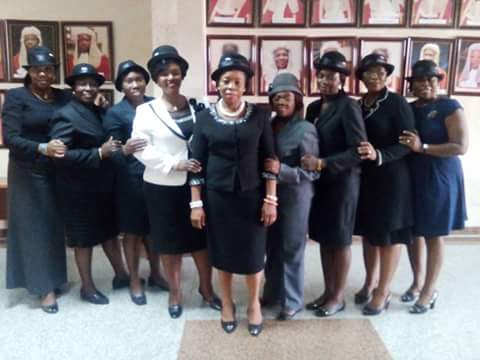 Members of Federación Internacional de Abogadas(FIDA) in Abuja on the 13th of July 2016 inaugurated a new set of female lawyers to pilot their affairs.
In a press release by the Public relations officer,Chioma Onyenucheya-Uko she said that the the members of the executive committee were elected on the 11th of May 2016.
They wereduly inaugurated by the Honourable Chief Judge of the Federal Capital Territory, Justice Ishaq U. Bello at the Ceremonial  Courtroom of the FCT High Court. The elected officials are:
1. Ngozi Theresa Ikenga – Chairperson
2. Rekia Rachael Adejo-Andrew – Vice Chairperson 3. Grace Popoola – General Secretary
4. Esther Onyebuchi Omaka – Asst. General Secretary
5. Damilola Awesu – Treasurer
6. Olufunmilayo Igunnu – Financial Secretary
7. Chioma Onyenucheya-Uko – Public Relations Officer/Editor
8. Ndidi Ezinwa-Ukoha – Asst. Public Relations Officer
9. Stella Odinakachi Duru – Welfare Secretary
Their tenure is expected to run until 2019.