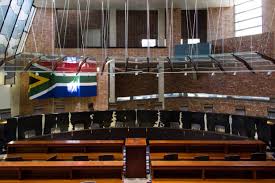 Johannesburg – The confession of one of the Rhodes Park accused was made freely and voluntarily, the High Court sitting in Palm Ridge ruled on Tuesday.
"He was in a sober mind when he had made his statement to the police officer," Judge Papi Masopa said.
Thabo Nkala, 25, claimed police officers assaulted him into making a confession and pointing out certain things at the scene of the crime, Rhodes Park, in Kensington.
Nkala, Admore Ndlovu, 23, and Mduduzi Mathibela Lawrence, 32, are on trial on charges of robbery with aggravating circumstances, rape, and murder. They pleaded not guilty.
They were allegedly part of a 12-man gang that attacked two couples walking in the park on the evening of Saturday, October 17 2015.
They allegedly forced the women's husbands, Zukisa Khela and Sizwe Tyeke, to strip before forcing them into the lake, where they drowned.
A trial-within-a-trial was held on Monday to determine the admissibility of Nkala's confession and pointing out.
Prosecutor Mutuwa Nenghovhela told the court that Nkala's version was a fabrication. He voluntarily gave the information.
Masopa said Nkala was informed of his right and had several opportunities to tell police that he was assaulted, but never did.
On Monday, Nkala told the court police officers pepper-sprayed and assaulted him after his arrest. He said three of them were called Howard, BJ, and Sono.
"Constable Sono asked me if I was willing to do whatever they tell me to do or am going to give them problems," he said.
They said he was being disrespectful and "tubed" him. This apparently involved having a piece of tyre tube covered in pepper spray put over his head, in a bid to suffocate him.
He then agreed to co-operate. Nkala said they took him to Rhodes Park on November 1, where he was instructed to point out certain areas.
He told the court that he had entered the country illegally.
"He could not even explain how he was assaulted. He only said he was 'tubed', but could never explain how he was 'tubed'," Masopa said.
He denied knowing the name "Rasta". This was apparently the street name he went by, according to a police informer who saw him on CCTV footage filmed shortly after the crime.
Court adjourned for lunch.
news24.com