In a general meeting by the Nigerian Bar Association,Ikot Ekpene branch held on the 24th of August,the branch disassociated  itself from the resolution of the Eastern Bar Forum rejecting the NBA election won by Mr Paul Usoro SAN .
The disclaimer signed by the Branch Chairman,Mr Cosmas Udoete  and the Secretary Charles Okon obtained by Courtroom Mail,the branch which is a member of the forum noted that it was neither invited to the meeting nor contributed to the said resolution .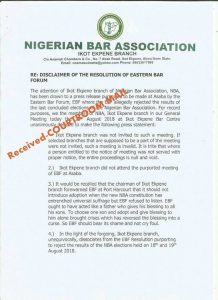 In the disclaimer,the branch recalled that it warned the EBF about adopting a particular candidate prior to the election which the EBF rejected.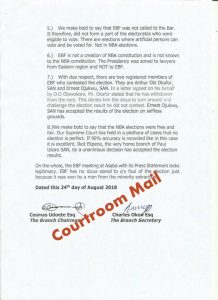 It stated that the EBF was not called to the Bar and therefore was never qualified to vote in the election.It pointed out also that the association  was not recognised in the NBA constitution.
It affirmed that the election was free and fair and the EBF lacked locus standi to cry foul of the election.