The  Constitutional and Human Rights division of the High Court of Kenya has ordered the release Dr Miguna Miguna held incommunicado at the Jomo Kenyatta International Airport on his return to Kenya Courtroom Mail reports.
In a copy of the ruling obtained by Courtroom Mail,where the cabinet Secretary,Ministry of Interior, Kenya Director of Immigration,The Inspector General of Police,The Attorney General, Jomo Kenyatta International Airport and others are the respondents,the court ordered the respondents to release the Petitioner,Dr Miguna Miguna to appear in court tomorrow 28th of March.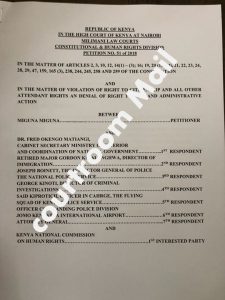 Dr Miguna Miguna,a Kenyan citizen with a Canadian passport was deported out of Kenya last month under controversial circumstances.He made a return to Kenya yesterday and was arrested on arrival.
Kenya National Commission on Human rights joined the suit as the 1st Interested Party.