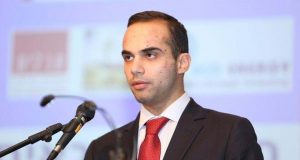 A Trump campaign aide has pleaded guilty to lying to FBI investigators probing the campaign's possible links to Russian interference in the 2016 presidential election, according to court documents unsealed Monday.
George Papadopoulos, a foreign policy advisor to the campaign early last year, entered the plea October 5, admitting he sought to hide contacts with a Moscow linked professor offering "dirt" on Donald Trump's election rival Hillary Clinton.
"Through his false statements and omissions, defendant Papadopoulos impeded the FBI's ongoing investigation into the existence of any links or coordination between individuals associated with the campaign and the Russian government's efforts to interfere with the 2016 presidential election," the indictment said.
The indictment and plea were unsealed Monday a short time after former Trump campaign chairman Paul Manafort and business partner Rick Gates were charged with conspiracy against the United States, money laundering and making false statement.
They were the first indictments to be made public by special counsel Robert Mueller since he took over the Russia probe in May.
geo news