In 2004, a young Nigerian law student at the Nigerian Law School in Victoria Island, went to sign his Benchers Form in the office of a member of the Body Of Benchers; as required by the Law school, by the time he came out, it was evident that he would not be called to the Nigerian Bar with his mates.
The member of the Body Of Benchers ( a member of that body must endorse your form before you are called to the Nigerian Bar) had given him a bad review because he (the student) wore a red tie.
Female law students have been penalised for wearing gold jewelleries, fancy skirts, coloured clothes and in practice, Judges have continued to disgrace lawyers in open court because of the colour or shade of their jackets and pants.
The legal profession has a similar code of conduct among all Anglophone lawyers in Africa with established standard of dressing and grooming. The profession has remained very conservative amidst the changes occuring in other endeavours and life generally.
Most Lawyers in Africa are proud of the conservative tradition of the bar; they have resisted change even when the status quo manifests hardship.
It is normal to see law students in the universities in some countries being compelled to dress in black and white to fit them into their future roles as responsible lawyers. Most of them who end up practicing law end up like their predecessors wearing majorly black and white for the rest of their lives. Not many lawyers are complaining about that yet. Sometimes, the expectations required from a lawyer can be intrusive. In the Nigerian Law School, for example, one can be expelled for having sex. A student can also be punished for having a "deviant" hair cut or loud make up. Even in practice, Judges may refuse to hear a lawyer because of the kind of haircut he is wearing, hairdo or make up.
Some Lawyers believe that those things are the things that make the profession thick while some believe that it is time to ease some of the restrictions on the profession in respect of standard of behaviour and looks.
The new Attorney General of Malawi, Dr Chikosa Silungwe PhD wears dreadlocks. That is the subject of the debate amongst African lawyers on social media at the moment . That is unusual for a lawyer but it is indeed a bold statement.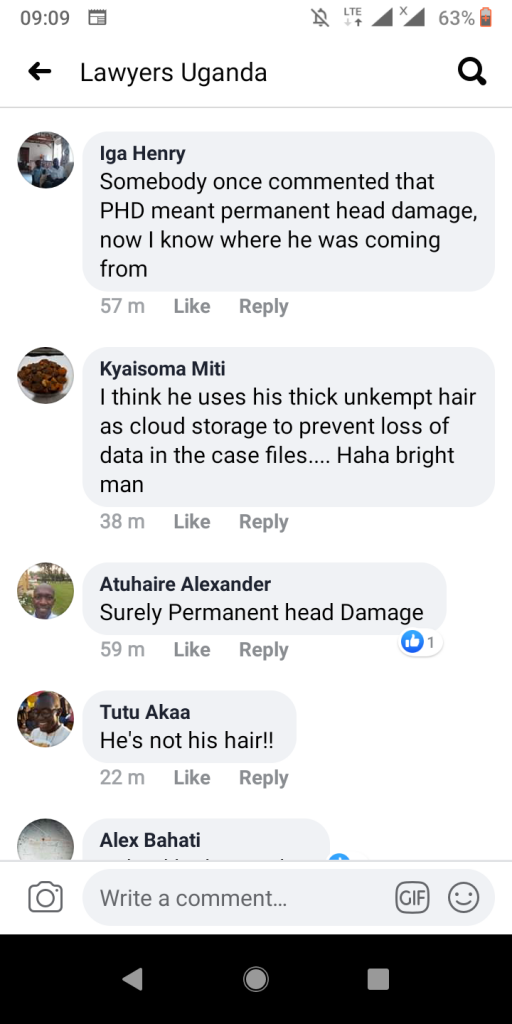 Very few male lawyers wear dreadlocks in Africa, many consider it incompatible with the legal profession.
Not many people will brief a lawyer with dreadlocks; a hair style indigenous to black people and popular in Africa yet unpopular among her lawyers. Many people on seeing a lawyer with dreadlocks, will immediately profile him as unserious or look at him as a jester.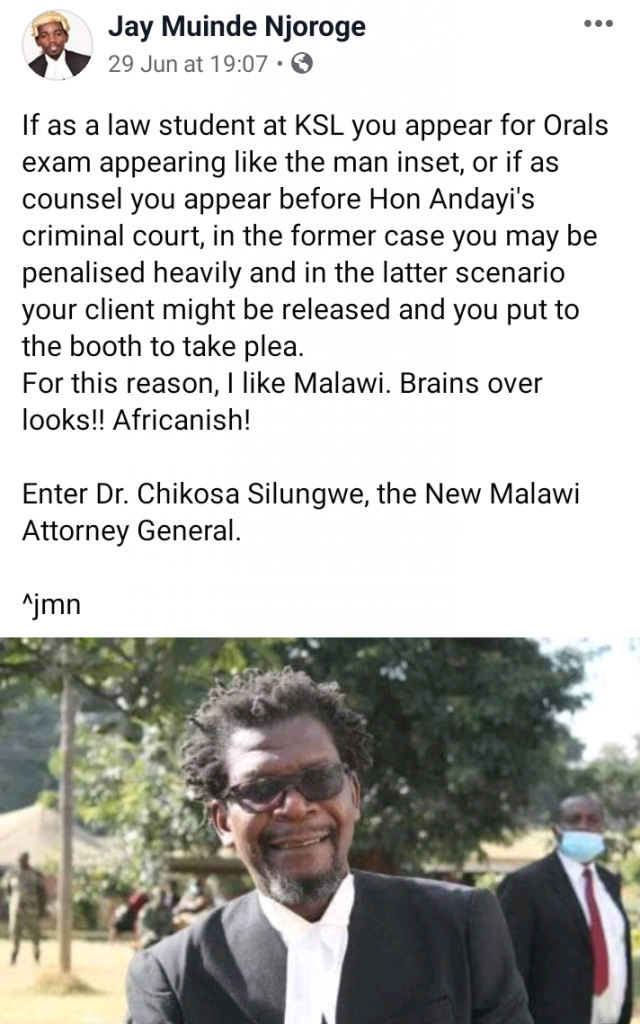 Dr Chikosa Silungwe is neither a jester nor is he an unserious lawyer. He was one of the lead lawyers in the Lazarus Chakwera and Saulos Chilima hotly contested election petition against the incumbent President. Both men are President and Vice President of Malawi.
He is a graduate of University of Malawi.
He holds a Master's degree and PhD from University of Warwick.
His dreadlocks make a bold statement though it has sparked off funny debates on social media.
This will not be the first time Malawi will be in the news for departing from the norm of the profession. Sometime last year, lawyers in Malawi briefly suspended the use of wig and gown. Heavens did not fall and heavens may likely not fall if Mr Silungwe continues to wear his dreadlocks.
Though, it is important that the profession retains some of its traditions, there is a need to ease some of the restrictions that have become too intrusive.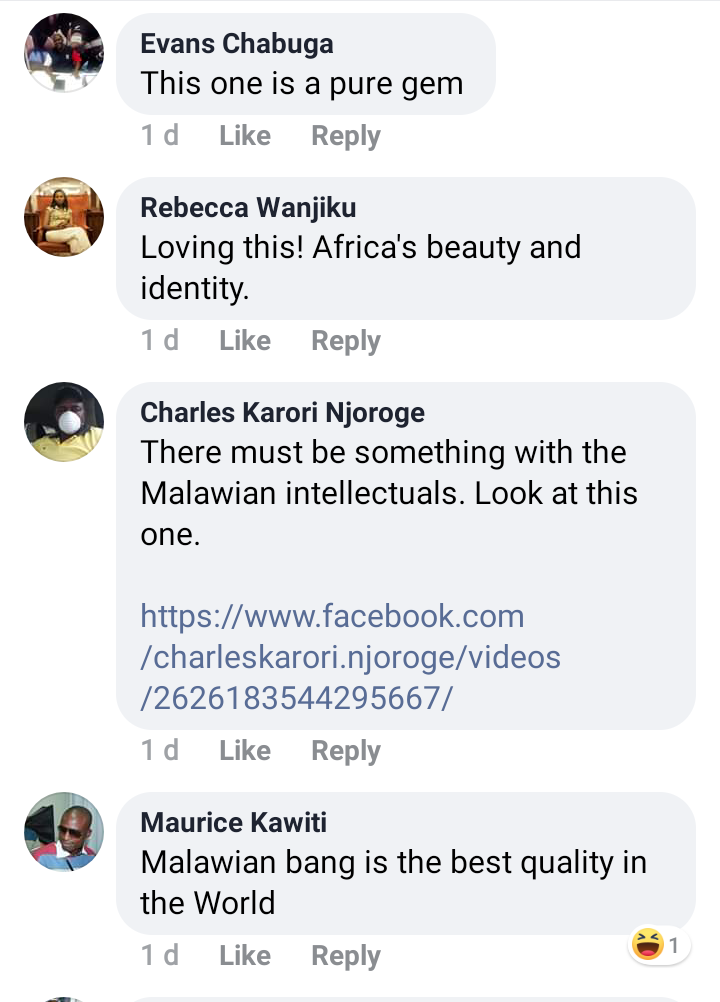 The profession has made lawyer so closed that many of them find it difficult to dress in a certain manners even on weekends. Only very few lawyers will be caught wearing shredded jeans on a casual day or even dress down to the office on a Friday. Things are really changing, though, and Mr Silungwe's statement already resonating across Africa may encourage a decent departure from the norm.
Twelve years ago, a senior lawyer stopped me and queried me on why I always wore my suit without a tie, he considered it bad dressing and indeed that created its own stereotypes. Two years ago, I saw him arriving his office on suit without a tie, I smiled mischievously.
I have to admit that my habit of wearing a suit without a tie was not inspired by a sense of fashion but a product of the helplessness that came with not finding a ready made shirt with a collar that fit my lanky neck. It was more or less a resignation to fate, although, that mode of dressing was already becoming fashionable with people outside the profession.
Life is too short, they say. Many of us live the life of a lawyer being too serious and unable to introduce a little creativity because we want to conform to not just the nonexistent expectations of the profession, but also those of the society. This may not be good for our state of mind in the long run. There is a need for just a little departure as being a lawyer is increasingly looking like being involved in a religion.
Before now, one might have asked me, "who will take a dreadlocks wearing lawyer seriously?" and I would have only shaken my head but now, though, I do not know how long Silungwe intends to wear that look, if that question comes up, I have an answer- the people of Malawi are taking a dreadlocks wearing lawyer seriously and he is the highest ranking legal officer of the land.
This is where the world comes to look for lawyers in Africa. Click
Anthony Atata is a Partner in Hallblack Law Firm and the Co-Chair of International Bar Association- African Regional Forum