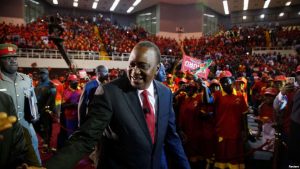 President Kenyatta on Wednesday asked Kenyans to pray for the nation, asking God to guide a country he said badly needed God's grace.
Speaking hours after electoral agency commissioner Roselyn Akombe resigned, blaming irreconcilable divisions in the commission, President Kenyatta asked religious leaders to lead Kenya in the national prayer period.
PRAYER DAY
This, he said, will culminate in a National Prayer Day on Sunday.
"The path since the Supreme Court decision has not been easy for our country, but we thank God for seeing us through," President Kenyatta told journalists at State House, Nairobi.
"Now, as we walk towards the 26th of October, as a God-fearing people, we beckon our God to give us divine guidance to fulfill our constitutional mandate, and we will."
The Chief Justice David Maraga-led Supreme Court on September 1 nullified the August 8 elections and ordered a fresh poll in 60 days.
But between then and now, his main challenger Raila Odinga has withdrawn, demanded a new poll 90 days after fresh nominations, and the Mr Odinga-led National Super Alliance (Nasa) has resorted demos to demand for electoral reforms before any election can take place.
POLL
The protests and anger against the commission have taken the shape of some electoral officials being forcibly removed from training sessions in Nasa strongholds.
The push-and-pull, with a commission that is heavily divided along the political lines, came to its climax Wednesday morning when Dr Akombe fled Kenya and announced her resignation from New York.
In the State House press conference, President Kenyatta, who did not take questions from reporters, avoided the subject but said the election would go on as scheduled.
But before then, he said, Kenya needed to pray for each other.
"On that day (Sunday) we will be asking for God's blessing for our nation: we will also ask God to abide with us, and to guide us, both in this period, and in time to come. We will pray for our leaders: that they may be granted wisdom, humility, and that they may love peace and justice," President Kenyatta said.
FORGIVENESS
He went on: "We will also pray for each other: for if your brother or sister asks you forgiveness, do not withhold it. For the truth is that the politics of the day is fleeting, but this nation, under God's care, endures. We cannot let what is fleeting sully what is permanent."
The Head of State quoted 2 Chronicles 7:14, asking Kenyans to take up the offer by God to go "humble themselves, and pray, and seek my face, and turn from their wicked ways" after which, the verse says, the Lord "will hear from heaven, and forgive their sin, and will heal their land."
"God has lifted this country before. He will do so again," President Kenyatta said.
Daily  Nation