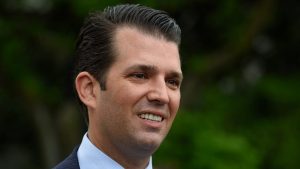 The Trump re-election campaign paid $50,000 last month to the law firm now representing Donald Trump Jr., according to a new filing the campaign made with the Federal Election Commission.
The $50,000 was paid to the firm of Alan Futerfas on June 27, several days after Trump's son-in-law Jared Kushner amended his security clearance form to reflect the previously undisclosed 2016 meeting he, Trump Jr., and then-Trump campaign chairman Paul Manafort had with Russian attorney Natalia Veselnitskyaya.
The meeting would not become public knowledge for nearly another two weeks.
The payment was for "legal consulting" and could be unrelated to Trump Jr. or the Russia investigation.
Asked whether the campaign is allowed to pay for Trump, Jr.'s legal fees if that turns out to be the case, former FEC general counsel Lawrence Noble, a CNN contributor, said: "They can pay for his legal expenses if it arises out of the campaign."
Trump's re-election campaign, Futerfas and a spokesman for Trump Jr. have not returned calls from CNN seeking an explanation about the payment, which The Daily Beast first reported.
CNN has previously reported that on June 21 Kushner's lawyers provided an amended security clearance form to the FBI listing the meeting with the Russian lawyer.
The filing was updated after Kushner's lawyers discovered emails about the June 2016 meeting while preparing documents to turn over to Senate Intelligence Committee investigators.
Then, on June 23, Kushner met with the FBI to be interviewed for his security clearance.
The payment to the firm also came one day after CNN asked a White House spokesman assigned to Kushner about the 2016 meeting, including that it was organized by Trump Jr. CNN did not a receive a response to that inquiry.
The New York Times revealed the Trump Tower meeting about two weeks later, and Futerfas put out statements defending Trump Jr. He confirmed to CNN on Monday that he was representing Trump Jr. "with respect to the ongoing matters in Washington D.C."
A search of federal election records dating back to April 2015 did not reveal any other payments from the Trump campaign to Futerfas' law firm.
The Trump campaign's FEC filing also shows payments to other companies for "legal consulting" since April. The bulk of the more than $600,000 went to the law firm of Jones Day.
cnn