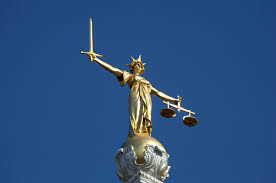 Chijioke Okoli(SAN)
There would be hell to pay…in the fullness of time. I await the dust to clear and the facts ascertained before a definitive intervention on the DSS arrest of some judges and invasion of their residences. Nonetheless, I knew straightaway that it's very difficult, if not impossible, to associate Justice Dimgba-who I have known rather well for many years-with any corrupt conduct. Reports coming in seem to be validating my initial suspicion that the DSS went to harass him in his house for the sole reason that he strongly rebuked them, quite justifiably too, for their barbaric behavior in cases before him. The DSS operatives responsible for this sacrilege have a lot of explanation to do and may need to be shown the way out of the service.
Barrister Okoi Obono Obla Said…the Nigerian Big man wants us to have two
standards of justice: One for him and another for the poor
"and we say no to that.
"The big man should not do anything and get away with it in
this country. The poor people are being arrested every day
and nobody talks about them."
"Everybody should be subjected to the law. If the President
does not have immunity, he can be arrested. The Senate
President was arraigned and put on trial. So what is wrong
with arresting Supreme Court Justices?"
Obla noted that "they will be arraigned before the court and
the Department of States Security DSS carried out their
operations constitutionally with a bench warrant and are
free to do their work at any time of the day."
Continuing, Obla stressed that "the Nigerian Big man" must
change his mentality and subject himself to the law.
"It is unprecedented in Africa for senior Judges to be
arrested for corruption and you say we are not fighting
corruption?
"Judges are partly responsible, the corrupt lawyers are
partly responsible; because they 'block', they fight, and they
stall; if a big man is involved, they weep up sentiments; oh!
the President is a Muslim fighting Christians, oh the
President is Fulani, he is fighting Ibibio, oh President is
fighting Igbos, fighting Efiks, fighting Anangs. They whip up
sentiments and think that they are above the law.
"That is the problem, when you go after them, they weep up
sentiments that the President is this and that but the poor
people go to prison every day and nobody talks about them.
They will even manipulate the media. Like Dasuki wants you
to believe that the federal government is against the order
asking for his release, it's a blatant lie.
So that is it, the Nigerian big man does not want the rule of
law to reign in this country.
But, we insist that the rule of law must reign."
NAIJA SOUNDBITE –Philip Njeteneh
INVASION OF JUDICIAL OFFICIALS HOUSES BY THE EXECUTIVE
The social media have been agog with the stories of the invasion of judicial officers. I have equally just read NBA's official reaction to the situation.
I have not heard official reaction of government.
I have not heard the official reaction of the Judiciary that is seen to be under siege.
The Judiciary is an arm of government that is independent, if its being unjustly treated it has the capacity to come out and insist they are not accepting this then the NBA and other stakeholders can take it from there.
Yes I am a Lawyer but I am too small a Lawyer to talk when the men who call the shots have spoken.
But again, it was here that we read about the judicial cleansing in Ghana, heaven did not fall.
Sadly too the manner of handling this is now going to see thieves joining the crowd to shout thief thief.
I will not take sides but to say there could be merit on both sides.
Now, in the government of today that the NBA has given ultimatum we have several lawyers, the Vice President is a Professor of Law and the man who reformed Lagos State Judiciary to what it is today. The Super Minister of that same government is a Senior Advocate of Nigeria who governed Lagos for 8 years and equally reformed Lagos State Judiciary. There are several other lawyers in the government. They are all members of NBA. Have we as a body summoned our members in the government to find out why such could happen under their watch?
Has the Lawyers in this cabinet considered the implications of this act to the profession that made them what they are?
I am not concerned about the traders and farmers in the cabinet but I think if what is being painted in the media is what actually took place then it is enough for the Lawyers in government to resign in protest and leave the government to traders and farners, but this is Nigeria.
The silence of government is giving room to all manners of Social media swing of all sort with a lot hoping to throw just a small mud in the water which will in turn colour the whole pool.
Like I said, I do not have all the facts and I am too small, my Yoruba friends would say ki ni omode mo (what does a small child know?).
The absurdities will definitely continue to unfold, this is Naija.
NAIJA – A THEATRE OF ABSURDITIES
CHECK YOUR HEAD-Ikechukwu Obi
So DSS busts the homes of senior members of the judiciary and comes up with some figures which they claim were monies 'recovered' therefrom…
And people just believe?
So inspite of the fact that this govt has been caught in several lies, deceptions and perfidies, some people still believe the info they roll out?
After all the earthquaking noise about Dasuki, to bring am come court sef dey hard.
After claiming millions of dollars were found in Akwa Ibom Govt House, not one red cent has been tendered anywhere as evidence.
After announcing that Stella Oduah's househelp owned accounts containing billions, we no see housemaid, we no see billions.
Abi na Diezani? Or digging up dollars from soakaway? Ad nauseam…
So many lies and deceptions yet Nigerians readily believe everything?
Whoever did the juju for this govt can easily become a god because of the unassailable hold he has on the minds of his captives. He can tell them just about anything and fiam, they will swallow.
That is the stuff upon which dictatorships are built. Na ordinary warning I dey warn.
Emmanuel Majebi
The Supreme Court has the final say on legal issues in Nigeria…..including matters that may have to do with life and property and liberty. ….as far as I am concerned any attempt to use corruption to subvert the process of the court freely arriving at just decisions is a Threat to National Security ……and Comes within the purview of the Directorate of State Security!!!
RAIDING OF JUDGES RESIDENCE & MATTER ARISING THEREFROM: THE RIOT OF THOUGHTS IN MY MIND. Lateef Abdulsalam
After a little nap overnight from Friday 7th October I was up early on Saturday morning and I was confronted with reports of raids of residence of Judges simultaneously in Abuja & Port Harcourt.
A lot of thoughts was running in my mind and I was following the updates and comments on all the available media outfits. The following were the trends of the flow of thoughts in me:
(1) Prolong Military rule in our political life & development had impacted badly in our way of life and had made uncivilised approach a norm in our ways of living in Nigeria. Ordinarily DSS ought to have obtain search warrant , invite the concerned Judges, take statement, proceed to their residence & conduct search immediately.
(2) Judges are Nigerians they are not special breed,only providence made them to be Judge and by virtue of much is expected from them. But what do we do where Judges are are found wanting? This is where the Nigerian factors comes in with political, ethnic & religious bigotry which had manifested in some opinions expressed by some public commentators. A corrupt Judge is worse than an armed robber & his or her conduct while sitting on the bench churning out phony decisions will eventually tell on the society. Judges are expected to live above board.
(3) Some likely beneficiaries & facilitators of corrupt practices in our judicial system are now hiding under the absurd approach of DSS in raiding the residence of Judges to condemn the situation not out of genuine concern for the country but to ensure that their bad conduct which was collateral to the situation that led to the ugly show by DSS is/are not exposed. Thus, the louder the noise,the better for them to "kill" or suppress the truth. But the Almighty God of Nigerian masses will not let them have their way. Others are venting their angst sequel to outcome of last election but that is past,let's move on
(4) If the publicised sum of money found in the Judges' apartments is true when did their residence becomes a vault for keeping huge sum of money?? This call for sincere & diligent approach in the interest of the country but if we allow sentiments to reign the resultant effect will not be good for the country.
(5) National Judicial Council though established to regulate judiciary activities in Nigeria has not lived to the expectations & its existence does not take Judicial officials out of purview of our laws & its applications. Judges are Nigerians, thus,the laws made in Nigeria applies to all Nigerians. Most judges that have been found wanting in the past were only recommended for compulsory retirement or dismissal by NJC none have been tried for crime committed in the process. The judge so retired or dismissed went away to go & enjoy the proceed of the crime & pension benefits. The recent decision that led to further directive that an NJC sanctioned Judge should be handed over to AIG in charge of Kano State Command was because a petition from the complainant is already pending against the said Judge before the NJC decision on the matter.
(6) Another issue I ruminated about is our economic financial systems & cash in circulation. Am not an economist but I think with individuals' house becoming a vault for "safe keeping" of money which could be released into the system at will by the keepers is not good for our financial systems because it will be rendering CBN financial regulations or monetary policies useless because the huge money kept in private vault of individuals that could be released anytime will be negating the whatever regulations CBN is trying to put in place. Besides,a genuine business plan of committed businessmen/women in need of forex for their international business is also in jeopardy due to unstable monetary policy of the country & they are suffering in silence.
(7) What the Judges affected suffered by the invasion of their privacy is what an average Nigerian goes or had went through in the hands of our various security outfits in Nigeria. Thus,the judges affected with due respect had dose of what an average Nigerians used to go through. When such happened we used to rush to court for succour but our courts despite the provisions of Fundamental Rights Enforcement Procedures which provides for speedy trial of any acts of human right abuses some judges will not act in tandem with provisions of the extant law & its rules which will or is to serve or meet purpose of justice at the end the poor litigants suffered more setback sometimes resulting in loss of life due to negligent conduct of a Judge.
(8) President Muhammed Buhari should remember the act of fifth columnist that led to take over of government from him in 1985 when those in government with him then took some steps that dented his government image in the eyes of the public like raiding of private residence of the Late Chief Obafemi Awolowo of blessed memory at Park Lane,Apapa-Lagos which went viral in the media among others. Whatever happened in any regime is the responsibility of leader of that era,so for the unjust invasion of Judges' residence Mr President you are responsible because they are your agent& you are their principal. Please put a check on those you give governmental responsibility to,to avoid further embarrassment. The DSS or any government agencies are not above the law.
The above was what was "rioting" in my brain,thank God am able to pour or "drop it down" am relieved. Sorry for taking too much of your time I only responded to Facebook regular phrase "what is in your mind". God bless Nigeria & Nigerians.