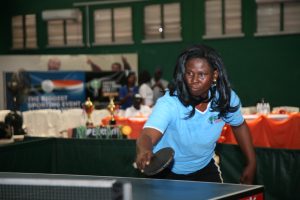 Lizzy Amadi,a top seed in Table Tennis from the Nigerian Bar Association Ibadan has arrived Lagos for tomorrow's finals of Lawyers Table Tennis open slated for 10am at the  National Stadium ,surulere, Lagos.
If the information spreading is true,the lawyers arriving from Ibadan have positioned Mrs Amadi to topple Mrs Osagie in the female category of Lawyers table Tennis Open(Mfon Usoro cup).
The female category was introduced in 2010 and Titilayo Osagie has been winning it since then.If she wins the 2017 edition,she will be winning it for the 8th time but Lawyers from Ibadan have said that both the male and female trophy will be taken to Ibadan tomorrow.
The finals is scheduled to begin at 9am for the players and guests are expected to arrive by 10am. The event is expected to be well attended by lawyers.