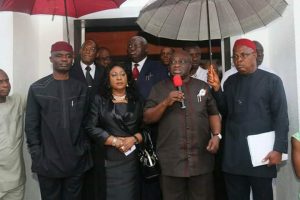 Governor Okezie Ikpeazu has restated the position of his government to ensure that the judiciary continues to enjoy its prime position in the scheme of things in the state.
The Governor made this remark this evening at Government House Umuahia while handing over the first batch of 10 brand new KIA MOHAVE SUVs to Judges of the State Judiciary.
The Governor made it clear that the welfare of judges is paramount to enable them dispense justice without fear or favor. He stated that more judges will get vehicles in the second batch expected to arrive shortly and said that if not for the precarious financial situation in the country, his plan was to ensure that all Judges and Magistrates are given brand new official vehicles to enhance their dignity and comfort. He promised that the process will continue until all of the Judges and Magistrates are reached. He assured the Judges that the relevant agencies of Government have been put on notice to ensure that the Judges proceed on their annual vacation next week without any hitches.
Responding, the Chief Judge of Abia State, Honorable Justice T U Uzokwe thanked the Governor for keeping his promises to the judiciary, stating that he is the first Governor to give brand new cars to Judges on the day of their swearing in. He assured that they will continue to discharge their duties effectively and appealed to the Governor to ensure that all Judges and Magistrates are covered under this scheme.
The Chief Judge said that in the finest traditions of the judiciary, the 10 vehicles will go to the 10 most senior Judges of the Abia State Judiciary which include Justices Onwuchekwa, Ogwe, CCT Adiele, K C Nwankpa, Abai, Ory Ikeorha, E U Kalu, etc.
Deputy Governor Ude Oko Chukwu, Finance Commissioner Obinna Oriaku, Principal Secretary to the Governor, Emma Nwabuko and others witnessed the short but very impressive event.
Onyebuchi Ememanka