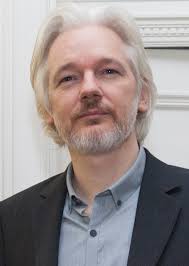 Julian Assange has had another setback in his legal stand-off with Sweden after a request to lift an arrest warrant for the WikiLeaks founder over a 2010 rape accusation was rejected.
The Stockholm appeals court upheld a district court's ruling to maintain the European arrest warrant, and rejected Assange's request to hold a hearing over the matter on Friday.
Assange, who denies the rape accusation, "is still detained in absentia", the court said, and it "shares the assessment of the [lower] district court that Julian Assange is still suspected on probable cause of rape … and that there is a risk that he will evade legal proceedings or a penalty".
Assange's lawyer Per Samuelson told Agence France-Presse he would appeal against the ruling.
The 45-year-old Australian sought refuge in the Ecuadorian embassy in London in June 2012 after exhausting his legal options in Britain against extradition to Sweden. He has refused to travel to Stockholm, saying he fears further extradition to the US over WikiLeaks' release of 500,000 secret military files on the wars in Afghanistan and Iraq.
This is the eighth time the European arrest warrant has been tested in a Swedish court. All of the rulings have gone against Assange.
The appeals court said Assange's four-year embassy sequestration "is not a deprivation of liberty and shall not be given any importance in its own right in the assessment of proportionality".
Assange's lawyers had urged Sweden to follow the non-binding ruling of a UN working group on arbitrary detention, which said his confinement in the embassy amounted to arbitrary detention by Sweden and Britain.
The appeals court noted that the length of his embassy stay and "the earlier passivity" of police investigators were "arguments for setting aside the detention".
"However, the relatively serious offence of which he is suspected means that there is a strong public interest [in] the investigation being able to continue.
"At present, continued detention therefore appears to be both effective and necessary so as to be able to move the investigation forward. The reasons for detention therefore still outweigh the intrusion or other detriment that the measure entails for Julian Assange."
The Swedish prosecutor, Marianne Ny, welcomed the decision. "The public interest in having the investigation proceed still carries a lot of weight, in our opinion. The court has here shared our opinion that upholding the arrest warrant is in line with principle of proportionality."
Even if the Swedish warrant was ultimately lifted, Assange was still liable to face arrest in London for having evaded justice after his appeals against extradition were rejected, according to British police.
Assange is accused of having sex with a WikiLeaks supporter in her 30s without a condom while she was asleep on 17 August 2010.
The statute of limitations on the rape allegation, which could lead to up to four years in prison, expires in August 2020.
Assange insists the sex was consensual and that there is a political motivation for the investigation. He fears Stockholm will send him to the US, though Washington has not asked for his extradition.
Sweden has said repeatedly that it cannot guarantee that Assange won't be extradited until there is an actual extradition request to consider, because it needs to know on what charges the US wants him. Sweden does not extradite people facing charges that carry the death penalty.
Friday's ruling came a day after WikiLeaks released medical records claiming Assange's mental health was at risk if he remained confined in the embassy.
"Mr Assange's mental health is highly likely to deteriorate over time if he remains in his current situation … It is urgent that his current circumstances are resolved as quickly as possible," said a report published by the organisation on Twitter.
Ecuador announced earlier this week that Assange had agreed to answer questions from Swedish investigators at the embassy from 17 October.
Despite Assange's confinement, WikiLeaks has continued to release documents influencing world events.
These include a trove of US Democratic party emails in July showing how party chiefs sought to undermine the potential presidential candidate, Bernie Sanders.
theguardian.com