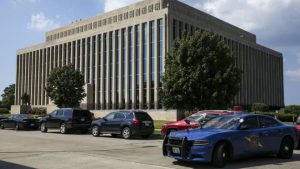 An inmate being moved from a holding cell shot and killed two law enforcement officers at a courthouse in the US state of Michigan.
The officers, known as bailiffs in the US, provide security for courthouses.
The inmate, who was due in court, grabbed an officer's gun during a scuffle and opened fire, Berrien County Sheriff Paul Bailey said.
People in the courthouse took shelter before other officers shot and killed the inmate, Mr Bailey said.
A deputy sheriff and another person were also wounded and were taken to hospital, where they are in a stable condition.
The inmate was not identified, and Mr Bailey did not say what charges he was facing.
The shooting occurred is in the resort town of St Joseph – about 100 miles (160km) northeast of Chicago.
Mr Bailey called the deaths of his colleagues "terrible".
"Our hearts are torn apart. … I have known them for over 30 years. It's a sad day," he said.
bbc.com