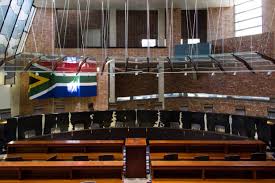 In what has been hailed as a victory for the country's LGBTI communities, the Johannesburg High Court has delivered a ruling declaring comments made by Jon Qwelane in a 2009 column in Sunday Sun as hate speech.
The proceedings were brought against Qwelane by the South African Human Rights Council (SAHRC) after he published an unapologetically homophobic opinion piece in the Sunday Sun. SAHRC advocate Tembeka Ngcukaitobi said the Commission had received an "unprecedented" 350 complaints in response to the article. In excess of 1 000 complaints had also been lodged with the press ombudsman.
In the piece, titled "Call me names, but gay is NOT okay", Qwelane stated: "Homosexuals and their backers will call me names, printable and not, for stating as I have always done my serious reservations about their 'lifestyle and sexual preferences', but quite frankly I don't give a damn: wrong is wrong!"
Qwelane also wrote of his admiration for Zimbabwean President Robert Mugabe's "unflinching and unapologetic stance over homosexuals".
In April 2011, the Equality Court found Qwelane guilty of hate speech and ordered him to pay R100 000 to the South African Human Rights Commission (SAHRC) and write an unconditional apology to the LGBTI community. The judgment was, however, withdrawn on September 1 2011 on procedural grounds as a result of Qwelane not being able to attend the hearings. He had at the time, and controversially, been serving as South Africa's ambassador to Uganda – a country known for its oppressive anti-homosexuality laws.
In September 2014, Qwelane instituted an application in the high court in which he sought to have Sections 10 (1) and 11 of Pepuda (or the Equality Act, as it is more commonly referred to), declared inconsistent with the Constitution in that it infringes on his right to freedom of expression.
Section 10 (1) of the Equality Act reads that "no person may publish, propagate, advocate or communicate words based on one or more of the prohibited grounds, against any person, that could reasonably be construed to demonstrate a clear intention to be hurtful; be harmful or to incite harm; promote or propagate hatred".
Section 11 of the act states that "no person may subject any person to harassment".
With Justice and Correctional Services Minister Michael Masutha and the SAHRC as respondents, the Freedom of Expression Institute and the Psychological Society of South Africa (PsySSA) were to join the proceedings as friends of the court.
In delivering his ruling, Judge Dimpheletse Moshidi said: "The offending statement is hurtful, harmful and incites propaganda hate towards the LGBT community."
He ordered Qwelane to have a written apology to the LGBTI community printed in a national newspaper within 30 days. The apology would also have to be printed either in the Sunday Sun or a newspaper with a similar reach. Qwelane was also ordered to pay all costs of court proceedings.
A visibly emotional Melanie Judge, of the University of Cape Town's Faculty of Law, said: "In a country where so many political leaders are increasingly displaying such profound racist, misogynist and homophobic statements, this judgement is absolutely critical. I t says that we as queer citizens are going to hold people in power to account for what they say. This judgement is a sign that we have the democratic institutions in South Africa to hold all forms of hate speech to account."
Nhlanhla Mokwena, executive director of People Opposing Women Abuse, said: "We really welcome this judgment. It is sending a message out there that hate speech is damaging to the LGBTI community."
Mokwena added, however, expressed dismay that Qwelane had not been fined – money which she had hoped would have gone towards LGBTI-related causes.
Matsihidiso Mofokeng of the queer rights organisation, Vosloo Activators Supportive Movement, too, felt a harsher sentence should have been imposed on Qwelane "to set an example".
"[Qwelane] is a public figure," Mofokeng said. "Having to pay legal fees and apologise is not enough. It makes me feel as though justice is for sale. He should have been imprisoned to set an example, because after he wrote that article, LGBTI people were attacked – some raped. What does one to say to the victims and survivors of those attacks? Will an apology bring them back their dignity? Their humanity? Not it won't. There is no cause for celebration. This is not justice. That is the problem with South Africa: our public figures always get away with things."
Still, for Mokwena, the ruling will hopefully have broader consequences.
"This judgment shows that the law is there to protect the LGBTI community. And that communities out there need to respect LGBTI communities."
Mail & Guardian