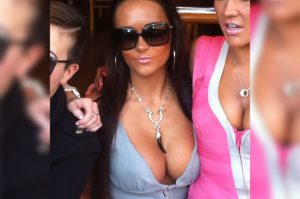 An Australian sex worker who earned $5,500 a week has avoided jail on drug supply charges after a judge found it "not unreasonable" that she needed the illicit substances to escape the horrors of the industry.
Police found Cherie Mollica in a parked car on the side of the road in Sydney on March 2016 and a search revealed a bag with a syringe, a large stained glass bottle, a small bag of white crystals and a wallet with almost $6,250 in cash.
Almost 32 fluid ounces of GBL, a date rape drug, was found in the bottle and the crystals tested positive for methamphetamine. GBL, which is sometimes known as "coma in a bottle," converts into the better-known drug GHB when dissolved in the body.
Mollica, 29, admitted that the drugs and cash were hers — but denied she was a drug dealer, insisting to detectives she only supplied to a friend and the rest was hers to help cope with her job as a sex worker.
She told police she only ever supplied drugs to one person, a friend who was in the car with her on the day of her arrest.
At a previous hearing Mollica — who is now working in a sales role — told the court the money had not come from the sale of drugs.
She said she consumed "a large amount of drugs" and earned a "large" amount of cash from her sex work. Mollica also said she had been admitted to the hospital after overdosing on drugs on one occasion and was rebuilding her life away from drugs and sex work.
She told the hearing she lied during a police interview because she was "nervous and didn't want to get in trouble."
Another sex worker also gave evidence at the hearing to say she and Mollica could earn up to $5,500 in a week and sometimes "a lot more."
Sex work is legal throughout Australia but is regulated depending on which state it takes place in.
Acting Judge Anthony Garling told the Sydney District Court on Thursday that Mollica had pleaded guilty at an early opportunity and did not dispute the items found in her car. What was in dispute was the police facts.
Garling said he struggled with parts of Mollica's account, noting the combination of drugs, cash and certain text messages on her mobile phone were "consistent with drug supply."
However, Mollica's evidence of how she obtained the money was a "perfectly believable explanation" and the prosecutors "had not reached the required level" to prove the drugs were for supply rather than her own use.
He said Mollica "lived a life" that allowed her to earn a lot of money and it was "not unreasonable to suggest she needed drugs to get on with her life."
Despite that, he told the court she had pleaded guilty to "serious offenses."
The judge said Mollica had voluntarily entered rehabilitation and was living with her parents. He was confident she was free of drugs at the moment but noted he couldn't be sure she would stay that way.
"Hopefully she will not (return to drugs). When she is drug-free her life is much better," Garling said. A letter tendered to the court by Mollica's mother said she was a different person when she was not using drugs.
There were gasps from the public gallery, where Mollica's parents and several young women sat, when Garling said he was satisfied the sentence should be two years' jail, before adding: "I'm of the view it should be suspended."
Speaking directly to Mollica he said: "Young lady, do you understand you have sentenced to two years' jail?"
When she said yes, he told her she was on a good behavior bond for two years.
"Don't touch drugs of any type for any reason," Garling warned. "Don't think you have had a slap on the hand. It's up to you to stay out of court."
Mollica, who was represented by lawyer Sam Macedone, was hugged by her parents and friends when her sentencing was over.
On the charge of supply GBL he sentenced her to two years' jail, suspended, and on the possession of methamphetamine, she was fined $400.
Mollica's name was dragged into a case last year involving a Gold Coast man, Matthew Delander, who was facing charges over allegedly firing his gun as he drove his $150,000 Mercedes Benz on Helensvale Rd, at Oxenford in September 2015.
According to court documents, Mollica filmed it on her iPhone, with police alleging her distinctive hot pink-painted fingernails were captured clearly.
She was never charged over that incident.
nypost.com