A front bencher in the Nigeria parliament of the first republic and the Chairman of the judiciary committee of the Senate in the second republic; represented, Aguinyi Senatorial District of Anambra State.
A seasoned lawyer and a lionhearted legislator who remarkably, during his days in the senate, played a vital role in the successful negotiation of amnesty for Late Dim Chukwuemeka Odumegwu Ojukwu (Eze Igbo Gburugburu).
Distinguished Senator NN Anah was the leader and Chairman of the Nigeria-Soviet Friendship Society, a group that played a commendable role in luring the Soviet Union to have a bilateral relationship with Nigeria which widened the scope for our foreign friends to come down to Nigeria for a joint business venture.
He further secured four scholarships from the Soviet Union for Nigerians to study in Soviet Union and today some of the surviving beneficiaries of that scholarship are giants in their respective carriers.
As an exceptionally brilliant student, Senator N.N Anah, after his O'levels education at the prestigious Christ The King College (C.K.C) Onitsha, meritoriously secured admission to read law at the famous University of Hull, England, where he bagged L.L.B Hons and L.L.M respectively and later came back to Nigeria to be called to the Nigeria bar (B.L), as a Barrister, Solicitor & Advocate of the Supreme Court of Nigeria.
His love for education and human capital development made him to found Ojiako Memorial Grammar School, in his home town, Adazi-ani.
Inspired by the notable quotes of William Shakespear, and particularly that of Late Dr. Nnamdi Azikiwe, "There are plenty of rooms at the top because very few people care to travel beyond average rout and so, most of us seem satisfied to remain within the confines of mediocrity"
After his tenure in the senate, he went back to his chambers to dust his wigs and gown for more outstanding performance in the profession that gave him more than 70% of his fame.
As a lawyer, Barrister N.N. Anah was a household name in the entire Igbo land and beyond. Indeed, he was a terror to corrupt judges, timorous and carefree lawyers who do not prepare their cases very well before coming to court and have always allowed them to make themselves laughing storks even at the astonishment of their clients who they owe legal duty to defend.
He was a thorough cross-examiner and a figure to be feared in that aspect hence; anyone who manages to survive his cross-examination during court or tribunal session must always go for a thanksgiving.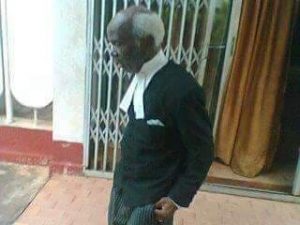 Anah made a very compressive landmark in legal practice, and as already stated, he created names for himself such a 'Quo Warranto', which was an equitable write which he invoked during his celebrated cases of Chieftaincy and kingship tussles in various places in Igbo land wherein many self made and imposed impostors arose, claiming to be Igwe or Eze and had compelled them to climb down for proper procedure to be followed.
As earlier mentioned, Senator Anah's bravery in the court of law was a major check against excesses of corrupt judges, hence; he never spared time in challenging them and consequently forcing them to toll the line of equity, justice and fair play.
As a legal iroko, he fought and won so many legal battles at the Appeal Courts and Supreme Court respectively, no doubt at the top of his carrier and professional excellence, he was meritoriously elevated to the rank of Senior Advocate of Nigeria (SAN), a highest distinction in legal practice; equal to Queen's Council which is awarded in recognition of considerable legal knowledge, outstanding and unblemished professional practice of law, which is the aspiration of every lawyer.
It is very important to recall that he was the lead counsel in the celebrated and landmark case of Mr. peter Obi vs Dr. Chris Nwabueze Ngige and INEC which annulled the election of Chris Ngige and hitherto declared the tenure of a governor from the date of taking oath of office and allegiance and other matters incidental thereto.
It is imperative if not desideratum to note that Senator Nathaniel Nwadike Anah was a devote Christian and a philanthropist. He was very prominent and active in both his home Awka diocese and the Archdiocese of Onitsha his domain. He was a member of the prestigious knight of St. John International.
He was also well rooted in Igbo culture having been inducted into the renowned Ozo Chieftaincy title in Adazi-ani as the Eyisi Nwachinemelu , Mkpologwugbachiliuzo and then Ozoigbondu, Ebekuedike of the old Aguinyi clan.
However, without further mixing our metaphor, any person who knows N.N Anah very well will cast his mind back to the historical telescope and would affirm that Senator Anah belongs to 'Who is Who' in both the legal and political circle in Nigeria.
It is very pertinent to remark that all through his life times, N.N. Anah never beckoned for trouble to come to him yet he has never ran away from any no matter who was coming to him with it, he would fight with the last drop of his blood and had always won such fights.
Indeed, a lot of impressions had surrounded this very unique but controversial aspect of him but the truth remains that, he was never associated with cowardice and had never shy away from intimidations.
He was happily married to Mr. Julie Anah, nee Anyanechi, a grade one (1) retired principal of very high repute. His marriage to Julie has been the only known mixed marriage (Catholic & Anglican) that has ever worked till old age and death.
The marriage was blessed with three children, Late Barr. Chuks Michael Anah (Nkpakanaonya) two term Chairman of Onitsha North L.G.A, Mr. Obum Victor Anah, a businessman and Pamela Oby Amarikwa nee Anah, U.S Attorney.
This great icon will forever be remembered for his prodigious intelligence, energy, courage, doggedness and a excellence. He will be buried on the 30th November, 2018 at his country home, ADAZI-ANI.
Written by :
OGUEGBU, OSTENDE UDOKA (Nephew)