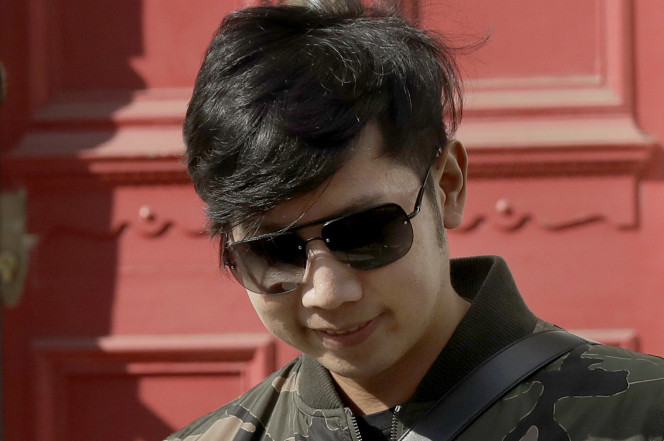 As a hit-and-run charge effectively expires, the whereabouts of an heir to the Red Bull energy-drink empire accused of killing a Bangkok police officer five years ago remain unknown. The fugitive, whose family is worth billions, has apparently found a way to disappear.
The Associated Press recently confirmed Vorayuth "Boss" Yoovidhya's last known location: Taiwan. Two sources with knowledge of the investigation said he flew there from Singapore, where he had fled shortly before he was supposed to make an April court appearance in Bangkok.
The sources, who spoke on condition of anonymity because they were not authorized to talk to reporters about the case, said Vorayuth stayed at the luxurious Mandarin Oriental in Taipei before leaving the island May 3. Since then, the trail has gone cold.
The statute of limitations on the hit-and-run charge Vorayuth faces expires Sunday, though it effectively ended at 5 p.m. Friday, said Prayuth Petchkhun, a deputy spokesman for the attorney general's office. "After that, even if you found the suspect, you wouldn't be able to bring him to the court until Monday," he said.
The expired charge might have been easier to prove than what would be the sole remaining count against him: causing death by reckless driving.
For more than four years, Vorayuth missed court appearances while living a high-flying and even public life. Relying in part on public social-media posts from his family and friends, the AP found that Vorayuth had gone to Formula One races, snowboarded in Japan and cruised Venice, all while failing to show up for court dates.
No warrant was issued for his arrest until this April, after the AP report.
"We have informed the police of our decision to file charges against him several months ago and this is police's responsibility to bring the suspect in," Prayuth said.
In May, Thai authorities revoked Vorayuth's passport and said it would ask Interpol to send an international alert. The agency's "red notice," however, was issued only this week — and it has yet to be posted on Interpol's public website.
An Interpol spokesperson, who asked not to be named according to agency policy, said it keeps red notices off the public site only if "the requesting country has asked that it not be publicized."
Vorayuth easily could have another passport, and could be in any of many places — even his home city. The AP revealed this month that Vorayuth's family, worth an estimated $9.7 billion, has been using offshore companies to cloak purchases of jets and luxury properties.
"In a country like Thailand, money talks," said Ken Gamble, of IFW Global, a cyber-intelligence firm used by governments and police agencies.
"Fugitives can often outsmart the authorities if they know what they're doing and they have contacts on the ground. Someone of his caliber, he'll have some pretty good advisers."
Vorayuth is accused of slamming his Ferrari into motorcycle police Sgt. Maj. Wichean Glanprasert in 2012, dragging the officer's body down a main Bangkok street before racing home.
In hiding from the authorities, Vorayuth is doing more than just evading capture: He is laying a path to legal impunity through Thailand's statute of limitations. A speeding charge expired four years ago.
With the hit-and-run count gone as well, the last charge is causing death by reckless driving. For that, Vorayuth has offered a defense: He has consistently told authorities it was the policeman who drove recklessly, not him.
"I am confident that prosecutors can prosecute the suspect on the remaining charge, which will expire in 10 years' time," Prayuth said. "We still have time to prosecute the case."
International attention brought to the case renewed cries of impunity and corruption in Thailand. Yet two days after the AP's first reports in March, Vorayuth again failed to show up for his Bangkok court appointment, this time because, his lawyer said, he was on a mission in the United Kingdom. Indeed, a week later AP did meet up with Vorayuth outside his family's luxury home in London, but he wouldn't say anything.
Prosecutors again pledged to take action, and set yet another court date: April 27. Vorayuth left the country days before that appointment, this time flying by private jet to Singapore. He changed his Facebook identity that month from "Boss Yoovidhya" to "Bee Toh." And his family's flow of more than 100 social media posts that included his image — birthdays, family dinners, parties and many Red Bull races — abruptly stopped.
On April 28, Vorayuth flew to Taiwan. The Mandarin Oriental did not reply to several requests to confirm that he stayed at the hotel.
It's unclear whether Thai police knew he was in Taipei at the time, or, if they did, whether they requested his arrest. Thai police spokesman Col. Krissana Pattanacharoen, while refusing to confirm Vorayuth's stay in Taiwan, said that without an Interpol red notice, no police force had any authority to act against a foreign national on its soil.
The sources who spoke to the AP said that when Vorayuth left Taiwan, his announced destination had been Singapore again, but they disagree over whether he ended up going there.
"I think he's being protected," said Richard Dailly, of Kroll, a global security consultant.
A glance back at Vorayuth's travel shows he traveled to at least nine countries since the fatal crash, regularly cheering on Team Red Bull at Formula One races, and making annual trips to Japan and the UK. The family, through an offshore company, owns at least five properties in one of London's most expensive areas.
It's also possible that Vorayuth is back in Thailand, not only because of his resources but also because of weaknesses in Thailand's immigration controls. Interpol maintains a database of more than 75 million stolen and lost passports, but Thailand does not yet use it systematically.
"Not all 58 formal checkpoints are linked to the online database," Maj. Gen. Choochat Thareechat, commander of the Thai Immigration Bureau's Investigation Division, confirmed to the AP this week. He added that immigration police still must investigate any travel document that looks suspicious.
Vorayuth also could be traveling on a second passport of unknown origin. Many governments sell citizenship as a way of raising revenue, and Thailand's upper class has been known to buy them.
"For the world's elite, they provide something that is less tangible and more desirable than any material object, ensuring personal mobility and security," said Mara Ispas of Henley & Partners, a citizenship consulting firm.
Private investigators say the biggest threat to Vorayuth's freedom may be the suspect himself.
"He probably likes to eat in nice places, travel to nice places. He's reliant on his servants, and that is always a risk for rich people," said Gamble, of IFW Global. "People always give them up. There will be too many people who know where he is and what he's doing."
While not speaking about Vorayuth specifically, former San Jose Police Chief Rob Davis, now a law enforcement consultant, said that while money can help fugitives hide, ubiquitous social media — the clues which led AP to Vorayuth in the first place — makes it tougher.
"Sometimes these people can't help themselves," he said.
nypost