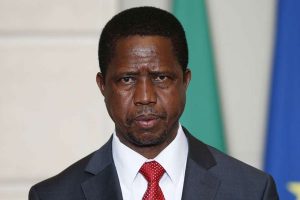 Zambian President Edgar Lungu invoked a state of emergency on Wednesday after a series of apparent arson attacks, in a move likely to trigger fresh accusations of government authoritarianism.
Several fires, including one that burnt down the main market in the capital Lusaka on Tuesday, were described by Lungu as "premeditated acts which if left unchecked could have serious… consequences".
"My government has decided to invoke Article 31 (leading) to a state of public emergency," Lungu said in a nationally-televised address.
The state of emergency will be officially imposed after approval by parliament.
POLITICAL TENSIONS
Zambia has enjoyed relative stability in recent years, but political tensions have been high this year after the arrest and continued detention of opposition leader Hakainde Hichilema.
Hichilema narrowly lost elections last year to Lungu, and has alleged that the result was rigged.
Hichilema was arrested in April on treason charges after his convoy allegedly refused to give way to the presidential motorcade.
He has since been moved to a maximum security prison and it is unclear when he will return to court.
Amnesty International has said Hichilema and five others arrested from his United Party for National Development (UPND) are victims of a "cynical ploy to silence all political opposition in Zambia".
The fire in Lusaka on Tuesday immediately led to accusations of blame traded between Lungu's Patriotic Front (PF) party and the UPND.
A DICTATORSHIP?
Lungu said in his speech that "there is no doubt in my mind that the intentions of the perpetrators of these irresponsible actions is to make the country ungovernable.
"As president of this nation, it is my responsibility to respond accordingly to forestall this planned chaos and I will therefore not tolerate this lawlessness."
Hichilema, a wealthy businessman, has refused to recognise Lungu as president and has challenged the narrow election defeat in court.
The election campaign was marked by clashes between supporters of the PF and the UPND.
TREASON CASE
Criticism of Lungu's government has grown, and the country's religious leaders said last month that "Zambia eminently qualifies to be branded a dictatorship" over Hichilema's treason case.
Treason is a non-bailable offence in Zambia, with a minimum jail term of 15 years and a maximum sentence of death.
Lungu himself did not mince his words during last year's campaign, warning political rivals and activists that "if they push me against the wall, I will sacrifice democracy for peace."
Parliament has suspended 48 UPND lawmakers who boycotted an address by Lungu in March.
The government has also increased pressure on media outlets that support the opposition, further threatening Zambia's longstanding reputation as a stable democracy.
Nation.co.ke