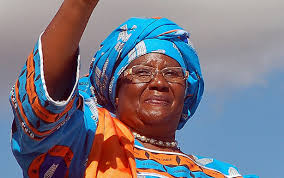 Malawi Police Service has issued an arrest warrant for former president Joyce Banda over allegations surrounding the huge corruption scandal known as Cashgate.
Banda, who was president from 2012 to 2014, left the country in September 2014 after coming third in elections a few months earlier, and she has given a myriad of reasons as to why she has not returned ever since.
In a statement issued by Malawi Police spokesman Senior Supritendant James Kadadzera  said Banda is suspected of abusing her office in the Cashgate affair.
"The Malawi Police Service wishes to inform Malawians that its Fiscal and Fraud Section conducted some investigations on the suspected involvement of the former president in 'Cashgate' cases and unearthed credible evidence .
"The veidence gathered raises reasonable suspicion that the former president committed offences relating to abuse of office and money laundering," reads a statement by Police.
Police said they are interested to question Banda on the suspected offences hence the issuing of a warrant of arrest to Banda, who is self-imposed exile.
"This warrant of arrest is in force and necessary legal fromalities are being pursued," the Police statement said.
Police said they have informed the press and public about the warrant of arrest , which it noted is not standard practice,  but  pointed out that  because  of public interest that Cashgate cases have generated  "necessitates providing such information to the public."
The Cashgate scandal was uncovered in 2013, while Banda was Malawi leader, and led to the arrest of about 70 people, including government officials and business people, accused of stealing $32 million of government money through dubious construction deals.
Although not officially implicated, a number of lead suspects have made allegations involving Banda. Oswald Lutepo, a former official of Banda's People's Party who is serving an 11-year jail term after pleading guilty to theft and money laundering, announced ahead of his sentencing: "Joyce Banda already knows that she used me. I can't start explaining things that she already knows. She knows how she used me."
Leonard Kalonga, a former Chief Tourism Officer who was also convicted, claimed Banda was involved too.
Former Justice Minister, Ralph Kasambara, told the High Court he wanted the former president to be among his witnesses in his trial. And recently, it emerged that the jailed former Principal Secretary in the Ministry of Tourism and Culture said in her witness statements that Banda was the mastermind behind Cashgate and that the former president instructed cabinet ministers to solicit money for the 2014 election campaign.
Banda vehemently denies all the allegations and some of her supporters have suggested the allegations are politically motivated. But speculation is still rife.
nyasatimes