Courtroom mail has obtained a copy of a recent court judgement on a police brutality to lawyers.
The applicant in suit number HIM/M112/2016 in the High cour of Anambra State, is a legal practitioner named Ifeanyi Nkem who represented a client in a case of enforcement of human rights . He complained that the police were not happy with him for suing them. As a result, the police conspired with the 1st respondent and accused him of attempted murder.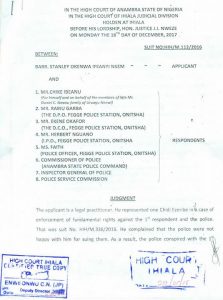 The police sent him a letter of invitation to that effect. Being apprehensive of the intentions of the police, he applied to the court for protection. On the 18th August 2015, the court granted the application and restrained the police to ensure that he was not unlawfully arrested. When  he visited the Police station, he was detained and was asked to remove his clothes before being taken into the Police cell.
The Lawyer filed a suit and obtained a Judgement of One Million,one hundred thousand against the Police.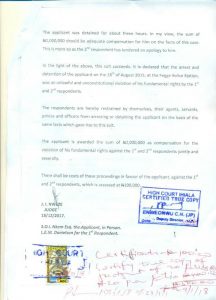 With the police brutality on lawyers on the increase,Lawyers should at this time unite to  fight this ugly trend or sink with it.