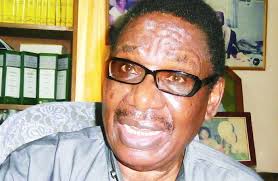 PROFESSOR Itse Sagay, SAN, is the chairman of Nigeria's Presidential Advisory Committee against Corruption. In this interview, he justifies the raid by the Department of State Services, DSS, on the home of some judges. He also accused the National Judicial Council, NJC, for being ineffective in combating graft in the judiciary and opposed calls by some critics that the Minister of Transport, Mr Rotimi Amaechi, should step down following allegations against him by two of the affected justices.This Interview was conducted by Vanguard.
What is your position on the DSS raid on the homes of some judges and justices?
Prof. Itse Sagay
I can respond to this as Chairman, Presidential Advisory Committee on Corruption because we have an official position, and that position is: There is nobody that is above the law in this country.
The only people who are enjoying immunity against criminal prosecution are president, vice president, governors, and deputy governors. Anybody outside this group is totally subject to the full weight of the law for any crime he/she commits.
Why we look at the judiciary, with all respect, is that we expect them to conduct themselves in such a manner that they are totally above suspicion.
I personally have done a study of the judiciary in the past. The judiciary I refer to is the golden era of the Supreme Court –  Supreme Court of Oputa, Nnamani, Obaseki and Bello among others. I studied their supreme courts and the image and aura that accompanied their conduct and the air around them were carried on from the colonial era.
These are people no anti-corruption agency in Nigeria will dare accuse of corruption because they have such high moral of authority. These are the people, who when President Muhammadu Buhari was the military head of state, held, on many occasions, that actions of that government were illegal in one way or the other and the government obeyed immediately because of the authority these people had.
So, any judicial authority that wants to maintain that aura and authority must be credible. You cannot be corrupt and expect to be respected.
You cannot reduce yourself to a level where you are purchasable, where what I will call irresponsible and low type of lawyers will carry money to you and buy your soul and you sell your judgement. The highest bidder will now hand over money to the judge.
So, when you bring us down to that level where nobody can determine the outcome of a judgement based on arguments, the law and facts, then you have destroyed the judiciary. Those judges, who are corrupt have destroyed the judiciary and nothing is too much for their punishment.
Who are the corrupt persons? They are the politicians and lawyers who share part of the proceeds of crimes. These politicians and lawyers are stabbing Nigeria one after the other and our blood is flowing. Judiciary has stabbed Nigeria. If they want to destroy Nigeria, we have to uproot those people for our country to survive.
In your view, do you think the anti-corruption war of the Federal Government is sustainable?
It is sustainable, if Nigeria wants it to be sustainable. After all it is a democracy. If you are taking legitimate steps to root out corruption in the judiciary, that is the first place.
We must root it out from the judiciary, otherwise we are going nowhere. After you have cleared out the political class and the lawyers we are left with nothing. You will go there and you will find justice. Judiciary is the first point of call. We must purge the judiciary of corruption. That is where we have to start.
The said punishment must be after judgement. There has to be a mindset for those who are looking for corrupt persons. There will be investigation of suspicious behaviours, secretly acquired illegitimate funds, leading to investigation, arrest and prosecution.
It is the judge, who will hear the case. He is the one who has to be to cleared and seen to  be neutral. He is the one who will assume innocence before conviction. Although, the case by angry Nigerians is that the process of innocence should be removed and that those charged should prove their own innocence.
The prosecutor cannot have the mindset that we are talking about. Otherwise, there will be no investigation and there will be no prosecution.
The Legal Adviser of the APC, Dr Muiz Banire has stepped down from his position following allegations that he induced a judge, how is Amaechi's case different from that?
That one is different. N500,000 was found in an account of a judge, which was paid by Muiz Banire. There is no such link. No such was found against Amaechi. It is just the mere words of the judges. There is a lot of difference.
Your take on the role of the NJC in the fight against corruption
I will blame them totally for the ineffectiveness of the fight against corruption to certain extent. NJC is established for a routine misconduct. There are no volumes of corruption that have not been found in our judiciary. People who have taken a whole lot of money from politicians will pay salaries of thousands of Nigerians for many years.
When it gets to that stage, then you are dealing with a serious disease. The NJC is not meant to do that. Their job is geared towards routine misconduct in normal situations. What we have is not normal. It is an epidemic. It is just too much.
Do you think the NJC is overburdened?
My personal view is that none of those operating at the level of NJC should be serving justices. They should be retired justices with clean records because we had a situation in which one of those accused of corruption and misconduct was a sitting Chief Justice of Nigeria and he influenced the whole process to the extent that an innocent President of the Court of Appeal was suspended and not allowed to return to his seat until he retired because the corruption and misconduct of that CJN was in consonance with the President and the party in power.
It is better to have a group of people who have nothing at stake, nothing to lose and no objection. Too many people are currently holding positions who are themselves living on huge sums of corrupt money, sitting and considering people who have been brought to court. How would you feel? You know you have committed the same thing.
You know the money is somewhere and can be found in future. You don't caution yourselves by dealing with a fellow traveller in that area. That is the problem.
Some are worried that the Economic and Financial Crimes Commission, EFCC acting chairman, Magu has not been confirmed. Are you worried?
I am not bothered and neither am I surprised because some of those who are to confirm him are under investigation. And to a typical Nigerian, there is no sense of duty,  no sense of respect and no embarrassment. They are ready to fight dirty and expose themselves.
People are in positions they forced themselves on in this country. Otherwise there should be no reason why they should not confirm him because they think they are saving themselves against the crimes they have committed.
The embattled justices are being accused of having huge sums of money in their possession. As a senior lawyer, is there a provision of the law that stipulates the amount of money a Nigerian should have in his possession?
There is a provision in the ICPC Act and similar provision is in the EFCC Act. The ICPC and EFCC are entitled to investigate any person who is living above his income, in order to determine where he is getting his extra income for his style of living.
There is also a provision in the ICPC Act that entitles the government to bring an application to freeze an asset owned by somebody who cannot account for how he got it. In that case, he is obliged to provide evidence on how he acquired the money.
If he cannot account, he loses that asset and presently before the National Assembly, there is a bill, which is very clear, that at any point in time that the security agency and anti-corruption agencies can ask you to account for any asset you have and how you acquired the asset, what you are doing to acquire it and if you cannot, they will give it to the state.
That is how it is all over the world. We are among the few exception of countries that have not been practising this.
I am optimistic that we will get some convicted or acquitted. We are interested in seeing cases come to conclusion. You are either convicted or acquitted. We don't want to see suspended cases again starting from 2003, which have not been resolved. But with the Administration of Criminal Justice Act, we are bound to see a major improvement because that act has blocked all the loopholes.
Senior Advocates of Nigeria, SANs, who are the colleagues of politicians they are exploiting and sharing the proceeds, feel totally committed to looking for loopholes.
Rather than defending their clients, they look for loopholes to deny that the court has jurisdiction and drag that issue to the Court of Appeal and to the Supreme Court for a period of 10 years or more. By the time, he comes back 10 years later, the court has the jurisdiction to try the case, witnesses and prosecutors are no longer there.
There are new prosecutors not familiar with the case. All sorts of complications would have arisen to make the case almost impossible to resolve.
This new act has provided four major things that are very helpful. If you make an application that the court has no jurisdiction, or any other preliminary objection, the court is empowered to hear your objection. After he hears it, he says, 'fine, let us go to the main case.' He hears the main case and gives ruling for the objection and judgement at the same time. So from there you move to the Court of Appeal.
Secondly, the court is now committed to give day-to-day hearing. No adjournment. You must hear the case every day until it is completed.
Thirdly, if a judge is promoted, no matter how far he has gone with the case, the case has to be given to another judge. The judge is at the verge of giving the judgement when he was promoted. That has ended.
Finally, an appeal does not constitute stay of consideration. So you can appeal 20 times. These are the tricks lawyers are using. They just appeal. The appeal has been eliminated; a case goes on at the same time. If they are firmly implemented and that is what my committee urged to be implemented. Cases will go on with little or no interruption till the end. If that is done, we will see numerous cases decided this year.