NBA IN PARTNERSHIP WITH MacArthur FOUNDATION HOLDS BORNO STATE VALIDATION PUBLIC FORUM TO PUSH FOR INNOVATIVE PROVISIONS INTO THE BORNO STATE ADMINISTRATION OF CRIMINAL JUSTICE BILL
Dear Colleagues,
In furtherance of its commitment to the nationwide domestication and implementation of the Administration of Criminal Justice Act of 2015, the Nigerian Bar Association (NBA), with the support of MacArthur Foundation, held a State Validation Public Forum on the 1st day of February 2022, in Maiduguri, Borno State. The Public Forum brought together, criminal justice stakeholders from across the State, including judicial officers, officials of the Borno State Ministry of Justice, criminal defence lawyers, officers and men of the Nigeria Police, officers and men of the Nigeria Correctional Service, the Nigeria Security and Civil Defence Corps, and members of the general public, to sensitize, discuss and suggest valuable input into the Borno State Administration of Criminal Justice Bill sought to be enacted into Law, by the Borno State House of Assembly.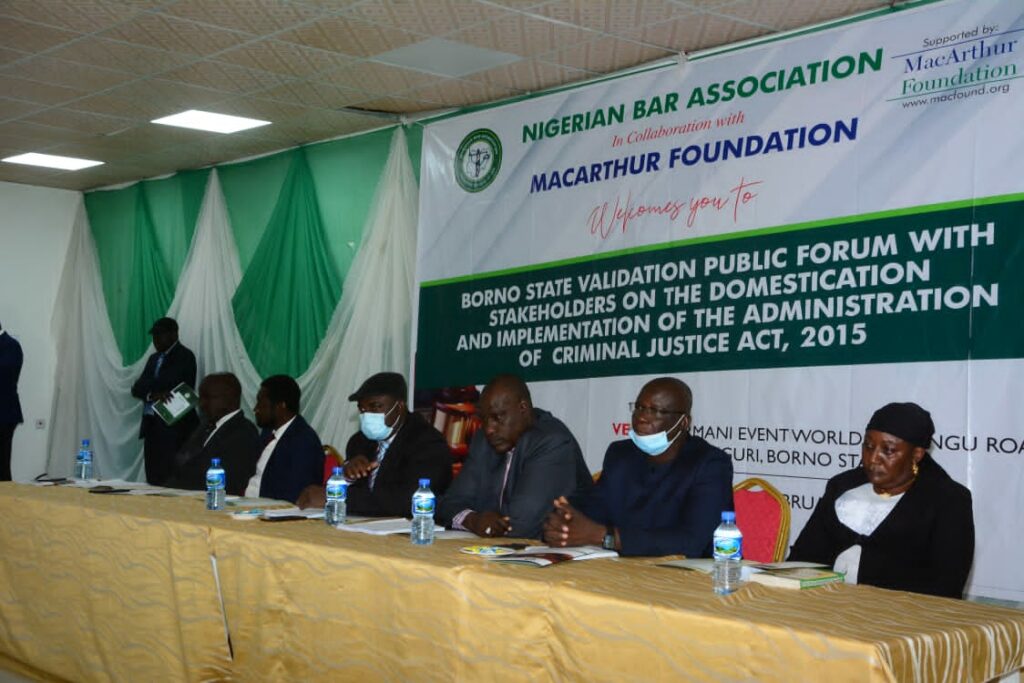 At the Public Forum, technical presentations and panel discussions by experts drew comparative analysis of the proposed Bill with the already existing Administration of Criminal Justice Act (ACJA) of 2015, while highlighting key innovative provisions introduced by the ACJA, 2015, which have been adopted into the draft Administration of Criminal Justice Bill of Borno State.
It is expected that in the coming days, when the House of Assembly passes the Bill, some of the concerns raised by stakeholders at this Public Forum would be reflected in the draft Borno State Bill. Copies of the draft Bill were distributed to stakeholders at the event, to aid their further study and participation.
The NBA further promised to assist in any way to ensure that the proposed Borno State Administration of Criminal Justice Bill, when passed into law meets the myriad of expectations that will lead to speedy and effective dispensation of criminal justice in Borno State.
The NBA was represented by Dr. Rapulu Nduka, the National Publicity Secretary, while Mr. Osita Okoro, the project coordinator of the NBA/MacArthur Project, was also in attendance.
Dr. Rapulu Nduka
Publicity Secretary,
Nigerian Bar Association