Last week ,Courtroom Mail directory published a statistics of the search enquiries on its find a lawyer directory . Human rights  were the most searched area of practice by visitors to the website.
Police brutality and many other forms of Human Rights violations are still on the high side in Nigeria,that is bad news for country like Nigeria,however it keeps lawyers busy.
More than 80% of Lawyers interviewed by Courtroom Mail in 2015 said that they do not like going to the police station to negotiate the bail of an accused person.More than half of this number said that they prefer initiating  fundamental rights suits at the High Court instead.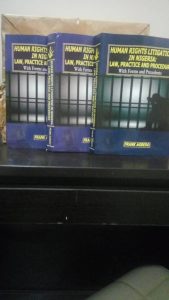 The nature of this kind of practice which does not always give Lawyers notice requires Human Rights Lawyers to always keep human rights books close everywhere to enable them prepare their matter from any where.This need has turned  Frank Agbedo's book "Human Rights Litigation in Nigeria-Law, Practice and Procedure" into the number 1 Human Rights book in Nigeria.
The latest Lawyers companion on Human Rights, 'Human Rights Litigation in Nigeria,' based on the provisions of the 2009 FREP Rules, with current case law ' is available for  sale at major book stands @  the ICC, Abuja, venue of this year's NBA AGC from 26th- 31st Aug. 2018. Grab your copies at special conference prices, while the stock last. 

Pls Call Wunmi on 08138544435, 08029145314,

 for more information on locations within the conference arenas
It was a top selling Human Rights book at the Annual Conference of the Nigerian Bar Association In Lagos 2017. It is believed that it will top the charts again in Abuja this year.
What makes the book outstanding is that it is  one  of the few books in any subject lawyers can use to do their cases without reference to any other material.
A lawyer once said that "..it is not a book for the shelf,it is a book that keeps you company just like your laptop.With the book,you can quickly respond to the call of duty at any time." That is correct.
As Courtroom Mail monitors the book buying pattern of Lawyers this one week,it has ticked it as a book that will make the top list.