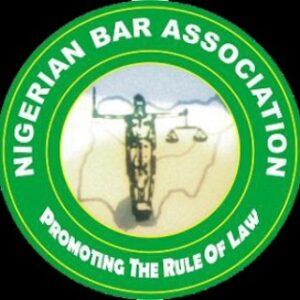 As usual, momentum is gradually gathering though the National election of the Nigerian Bar Association (NBA) is still nine months away. From the body language of some lawyers, it can be confirmed that Paul Usoro(SAN), Authur Obi-Okafor(SAN), Prof Ernest Ojukwu(SAN) ,Afam Osigwe and Ikeazor Akariwe will be in the race next year to lead Africa's largest bar.
The election will be regarded as the first true test of the 2015 NBA election.
Among other things that will be tested in the coming election will be the interpretation of section 2.2(d) of the second schedule.
Section 2.2 provides thus:
2.2 ELECTION OF NATIONAL OFFICERS
(a)The Association shall for the purpose of elections of National Officers be divided into three geographical zones namely –Northern zone, Eastern zone and Western zone.
(b)The positions of the President, 1st Vice President, 2nd Vice President, 3rd Vice President and General Secretary shall rotate among the three zones. In determining the eligibility of a candidate to contest for any of the rotated offices, regard shall be had to a candidate's Geographical Zone of origin and not the geographical Zone where he/she carries on legal practice.
(c) The Geographical Zone that produces the President of the Association shall also produce the 1st Vice President.
(d) Where a position is zoned to any particular geographical zone, the position shall be rotated and held in turn by the different groups and/or sections in the geographical zone
(e) A list of the states that make up the zones shall be as
follows: (i) Northern zone –Adamawa, Bauchi, Benue, Borno, Gombe, Jigawa, Kaduna, Kano, Katsina, Kebbi, Kogi, Kwara, Nasarawa, Niger, Plateau, Sokoto, Taraba, Yobe, Zamfara, and Abuja
(ii) Eastern zone–Abia, Akwa Ibom, Anambra, Enugu, Bayelsa, Ebonyi, Cross River, Imo, and Rivers
(iii) Western zone– Delta, Edo, Ekiti, Lagos, Ogun, Ondo, Osun, and Oyo
3 Judges 15 Magistrates were removed from the UK Judiciary last year
Section 2.2(d) has been subjected to many interpretations by Lawyer as to what groups or sections mean within the context of the constitution.
Some Members of the Eastern Bar Forum have argued that there is a convention (though it is subject to debate if indeed there is one) that the position of the President will be alternated between the south-South and South East members of the Eastern Zone. Many other lawyers have argued that since the constitution is aimed at balancing interests, that such balance should be brought to the micro level by also making sure that states that have produced the President should be excluded from presenting a candidate to accommodate the interest of others. For many Lawyers, that sounds fair.
Another group of liberal lawyers have argued that since the position has been zoned to the region and no other candidate will contest from outside the region, the right thing to do will be to throw it open for everyone because adoption of any particular candidate will amount to an effort  to prevent an election which is not the intendment of those who drafted the constitution. A senior Lawyer in the Eastern Block put up the post below which goes a long way in  revealing  how some lawyers really feel about how subsection d should be interpreted.
Sign up and get listed for free on the largest listing of lawyers in Africa.It is profitable
"The new NBA Constitution set out rotational Presidency for fairness and equity and for inclusion. It was the same reason the Eastern Bar Forum was set up. If that be the case, if fairness still exists, if we are to be fair, then no lawyer from Anambra State should run for the office of the President of the NBA in 2018. Any other thing is unacceptable to the rest of us…. IT IS THAT SIMPLE. YOU HAVE TAKEN ENOUGH." Anthony Oka
The above comment began a hot debate among lawyers both on social media and in the Courtrooms across the country.
Some Lawyers have argued that such convention stifles merit and manifests injustice. They argued that majority of southerners have been in the forefront of merit as against quota in national affairs and it will amount to turning summersault if they now support such within the Association.
However, another group of lawyers who have sympathy for zoning have argued that  to ensure that justice is done and seen to be done(which is the whole idea behind subsection d) the east in the next election should consider other sections or groups who are yet to produce a president.
Will Germany's new Law kill free speech online
The following have served as Presidents of the NBA from the region in no particular order.
Dr Nwakama Okoro (Imo),
Andrew Anyamene (Anambra),
Ebele Nwokoye(Ebonyi)
Clement Akpamgbo (Anambra),
Olisa Agbakoba (Anambra)
OCJ Okocha (Rivers),
Okey Wali (Rivers)
You have the right to fart in public-Court Rules
This leaves Enugu, Abia, Bayelsa, Cross Rivers and Akwa Ibom out of the equation. Some other lawyers across the east  who have sympathy for lawyers in former Cross River have argued from another perspective that the old Anambra, Old Imo, Old Rivers have all produced presidents of the NBA except the old Cross River.
In response to the post of Anthony Oka, lawyers posted comments of varying perspectives. Some of the comments are stated below
Roy OU Nwaeze  "As the light of the Nigerian society, we must focus more on what innovations any candidate for the NBA presidency will bring to bear in the Association. The Legal Practitioners Privileges Committee, in the consideration of persons for SAN conferment, almost gave all the South-East slots to lawyers from Anambra on strict ground of merit, notwithstanding that the state already had more SANs in the South-East. That is as it should be. Let merit be our emphasis in all that we do."
Barth Okoyeaniche  "Brother Tony that's is not true. You have not been coming around lately and have really lost touch. Read EBF constitution please then take note of core eastern states understanding with core now south south states. Core east is core east no division. When it is core east turn any aspirant from the core east can run. Please be guided accordingly Mr T."
Benson Anayo Mbachu  "This is the same problem of the bigger Nigeria. So you cannot find same quality personalities from other zones of the east except Anambra State. That's laughable. As long as we need justice, there must be equity QED."
Matthew Ugwuocha " I strongly believe in adhering strictly to the NBA constitution and the revered tenets of the legal profession…mediocrity must not be allowed to rear its ugly head into this noble profession of ours. Let merit rule. We must not forget that law is a tool of social engineering. As lawyers we are the primary custodians of law and justice. We must be seen to uphold merit no matter the painful truth"
Emeka Obegolu  "Senior Tony Oka, please do not sacrifice south east Unity in the altar of political expediency. If you have chosen to support any of the candidates from South east, you may do well to highlight his strong points without laboring to introduce inter state rivalry or divisive tendencies here. You are entitled to support any candidate of your choice even as history records that you have been a beneficiary of EBF support in the past and therefore you will be morally bound to adopt the rotation principles as enshrined in the EBF constitution and no more."
Patrick Egwu "I would advise that Anthony Oka's view on the policy of rotation be looked at twice. Am not oblivious of the fact that some of us are already trudging under the heavy weight of our political leanings/alignments but am as well pretty sure that we still have enough time to extricate ourselves from the apron strings of our political inclinations and place equity and justice over and above personal and/or group interest. The point I understand Anthony Oka to be making is that we should be wary of double standard. If for purpose of NBA election the country is divided into parts to ensure equity and fairness and EBF is further divided into south-east and south-south for the same or similar purpose, I do not see anything wrong (in fact it is in order) for south-east, south-south or indeed any other part of NBA to further narrow down the rotation policy to states, and even further, to achieve the aforementioned aims. To argue otherwise would be tantamount to double standard and deceit. This is because within EBF now, majority opinion is that candidates from AkwaCross are not 'legible' to contest, the south-south(under which AkwaCross falls) having taken their turn(Okey Wali, SAN) the last it was our turn. What then is wrong with the argument thamt since Anambra has had a shot at this exalted position, that some other state in the south-east that has not smelt that office should be given an opportunity?"
Francis Ogwumike "There is equity in zoning offices. No zone is in short of competences. Equity and fairness should cascade down the rungs, zoning should apply inter and Intra zones. Anything to the contrary is not right."
Osas Justy Erhabor  "I just wonder why we have to go through all these every twelve months. For a two year Presidency of a professional Association? No salaries, no contract to award as such! What is really the benefit to a zone that produces the president of NBA? Membership of a Committee? I served as Vice President any way and I didn't see any big deal except more grey hairs. May be the office of the President is the real deal and that will be because they either steal in that office or totally abused the office to appropriate the functions of NEC."
A woman collapses in court after the court refuses her prayer to share in her ex's fortune
As the debate continues in respect of the interpretation of subsection (d),the EBF will  be left with options of (a) adopting one candidate and (b) allowing all the candidates to throw their hats into the ring. Whatever option they go with and how that option plays out will  go a long way in determining  its strength.
Anthony Atata