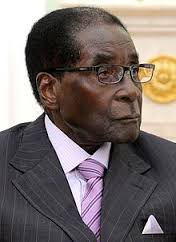 President Robert Mugabe has banned the west-funded Non-Governmental Organisations (NGOs) from observing the 2018 elections.
The 92-year-old Zimbabwean President, Robert Mugabe, on Thursday in Harare maintained that even though is party would choose a successor, he planned to contest the next election in 2018.
This is not the first time the country has barred Western organisations from observing elections, accusing them of harboring sinister intentions to promote regime change. "We don't need them. We are saying no. We are going to have elections in 2018 and we are going to say no to the whites. "We don't mind their diplomats participating but the NGOs, no.
We don't want them at all," he told journalists from Chinese media organisations. He accused such NGOs of meddling in the Kenyan elections, saying they had influenced opposition leader, Raila Odinga to boycott the polls. "They want to work with opposition parties all the time.
In other words, they don't have that impartiality of mind and judgment," Mugabe said. The statement will likely draw criticism from opposition parties in Zimbabwe which have always called for Western countries and organisations to observe elections to ensure that they are credible, free and fair.
vanguard