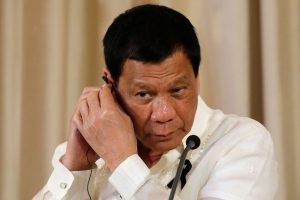 President Duterte is ready to again declare martial law if "a similar incident of rebellion" like the Marawi siege occurs, Malacañang said on Sunday.
"The President likewise made it clear that if and when there is another similar incident of rebellion, when the public safety requires it, the President and Commander-in-Chief would again declare martial law, and police power given to the executive by no less than our Constitution," Presidential Spokesman Ernesto Abella said in a statement.
Abella said the President "made it clear" he will pull out government troops in Marawi if the Supreme Court nullifies his martial law declaration in Mindanao.
"The President's media interview yesterday after visiting the troops in Butuan underscores that he adheres to the rule of law and judicial independence," he said.
Duterte on Saturday hit back at his critics, who questioned his declaration of martial law.
"Ngayon, kung ayaw nila, okay ako. If they want sabihin nila, there is no factual basis, then I am ready to order the military to withdraw, and we will not move. Hayaan na sila dyan kung kaya nila," he said, speaking before the 4th Infantry Division in Butuan City.
"Tapos itong mga justices pa, mga judges, arguing terrorism lang iyun eh hindi rebellion. What do you want? That they burn half of Mindanao before we can call it a true blue rebellion? It's crazy. Rebellion na iyun."
The military had a "total" failure of intelligence on the Maute group's attack in Marawi City, according to Supreme Court Associate Justice Mariano del Castillo.
"Apparently the Maute rebels were well-prepared. How is it that our military, it's a total failure of intelligence," Del Castillo said during the second day of oral arguments on petitions seeking to nullify the declaration of military rule in Mindanao.
Solicitor General Jose Calida responded to Del Castillo by saying "intelligence gathering is not perfect."
Abella meanwhile welcomed the Commission on Human Rights' remarks that there have been no reports of human rights violations by government troops following the President's declaration of martial law.
"Let his put to rest the fears and anxiety of some quarters against martial law," he said.
"As we said in previous occasions, public safety is foremost in the President's mind, in light of the continuing rebellion in Marawi, and martial law is a necessary response to address the prevailing reign of terror and its potential spillover to the rest of Mindanao."