An order of non-suit is usually made where it is established that the failure of the plaintiff to prove his case is due to a technical hitch. Such a situation may arise where, for instance, the Plaintiff has established by evidence some right or interest in the subject matter in dispute such that to dismiss his action would result in the destruction of his right or interest and thereby occasion a miscarriage of justice. See, Ibiyemu V. F.B.N. Plc (2003) 17 NWLR (Pt. 848) 196.
The trial court in Abuja erred in a scenario where the Appellant proved its case at the trial court but the trial court raised the issue of non-suit Suo moto without calling the parties to the case to address the court on the propriety or otherwise of the intended order. This is because an order for non-suit is not made for both parties but to get rid of the pending action leaving the Plaintiff at liberty to start de novo either in the same or subsequent suit. See, Ikonne v. Ezieme (2011) 11 NWLR (Pt. 1259) 540 at 560-561, Paras F-B).
The law is trite that the trial court must ask respective parties to address the issue before making an order of non-suit. See, Dafa v. F.C.D.A (1994) 4 NWLR (Pt. 340) 549. The Court of Appeal in Kaura v. U.B.A Plc, (2005) 8 NWLR (Pt. 926) 24 at 37, Paras G-H, Per I.T. Muhammed, JCA held:
"I have myself gone through the length and breadth of the record placed before this court and I failed to see where the attention of the learned trial Judge was invited to the issue of non-suit. The law is trite that a trial Judge who considers to exercise his discretion on whether to make an order of non-suit or not is required to call on counsel for the parties to address him on the propriety or otherwise of making such order. See Benard Okoebor v. Police Council & 2 Ors. (1998) 9 NWLR (Pt.566) 534 at 544; Egwu v. Madunkwu (1997) 4 NWLR (Pt.501) 574.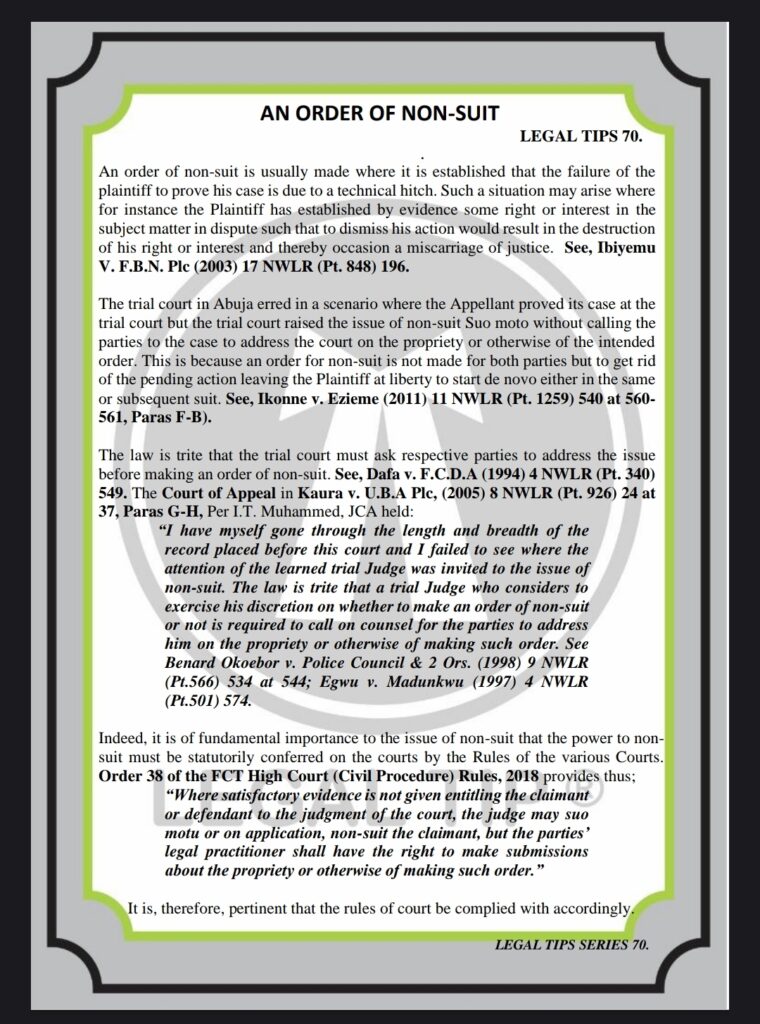 Indeed, it is of fundamental importance to the issue of non-suit that the power to non-suit must be statutorily conferred on the courts by the Rules of the various Courts. Order 38 of the FCT High Court (Civil Procedure) Rules, 2018 provides thus;
"Where satisfactory evidence is not given entitling the claimant or defendant to the judgment of the court, the judge may suo motu or on application, non-suit the claimant, but the parties' legal practitioner shall have the right to make submissions about the propriety or otherwise of making such order."
It is, therefore, pertinent that the rules of court be complied with accordingly.