An applicant for an interim injunction or order of similar nature argued that the application will automatically place a restraint on the parties with regard to their dealings with the subject matter of the application.
Legal Tips states that mere service of notice of motion, even a motion for stay of execution cannot be elevated to mean an interim order of stay of execution or maintaining a status quo of the res (the subject of the dispute), until the disposal of the application.
Even in a serious application for arresting the enjoyment of the fruits of successful litigation; the law on stay of execution has emphatically prescribed that a mere application for stay of execution cannot be construed as an automatic grant of the order sought.
In the same vein, an appeal does not operate as a stay of proceedings. See, Alioke v. Oye (2018) 18 NWLR (Pt. 1651) 247.
The Court of Appeal held in U.B.A. Plc v. Ekanem (2010) 6 NWLR (Pt. 1190) 207 that
"Filing of an appeal does not ipso facto operate as a stay of execution of the decision appealed against." See also Julius Berger (Nig.) Plc v. T.R. Comm. Bank Ltd. (2007) 1 NWLR (Pt. 1016) 540.
In Mobil Prod. (Nig.) Unltd. V, S.P.S. Ltd (2013) 17 NWLR (Pt. 1384) 573, the Court of Appeal held that
"An application for interim injunction is itself a proceeding in an action before a trial court. This is so because an act which has some degree of formality and significance and which was done pursuant to any rule of court and has received the attention of the court is a proceeding."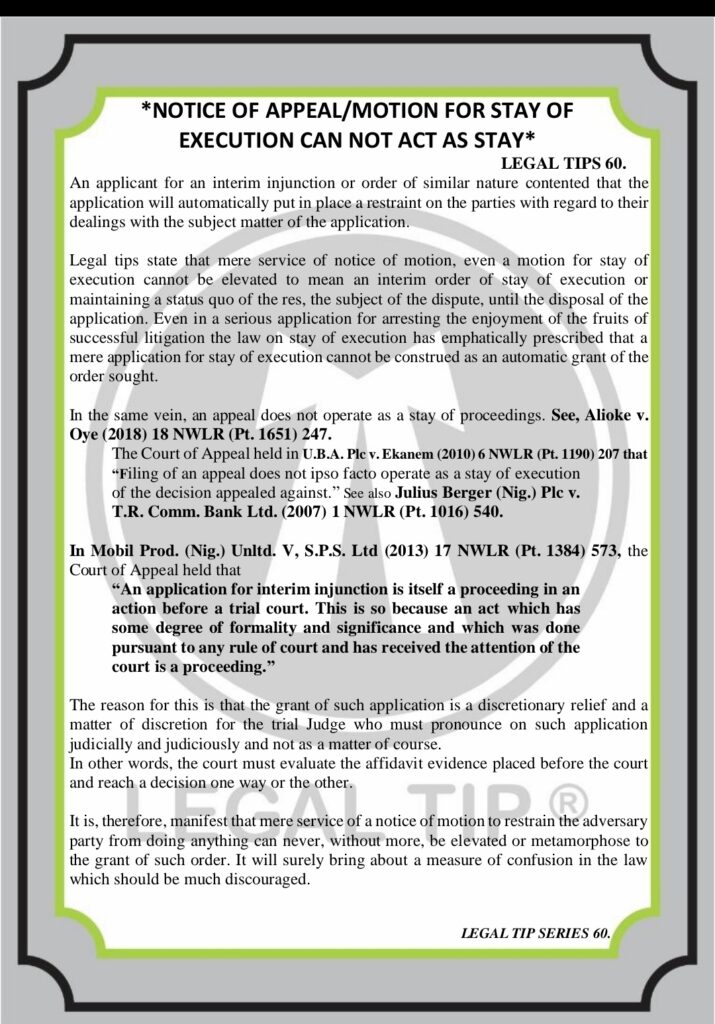 The reason for this is that the grant of such application is a discretionary relief and a matter of discretion for the trial Judge who must pronounce on such application judicially and judiciously and not as a matter of course.
In other words, the court must evaluate the affidavit evidence placed before the court and reach a decision one way or the other.
It is, therefore, manifest that mere service of a notice of motion to restrain the adversary party from doing anything can never, without more, be elevated or metamorphose to the grant of such order. It will surely bring about a measure of confusion in the law which should be much discouraged.
LEGAL TIPS is anchored by Ms CIA Ofoegbunam, an Abuja-based lawyer who is passionate about legal practice.LEGAL TIPS offers quick hints on substantive law, as well as rules of practice and procedure, and serves as a handy reference guide to lawyers, especially in court.Published on a weekly basis, the LEGAL TIPS Series is CIA's modest contribution to legal development in Nigeria.