The right of action of an individual to challenge such action for non-compliance with the Constitution can only arise if the said act or its non-compliance with the Constitution adversely affects the individual right or interest of a person and that right of action can be exercised only by the person whose individual right or interest is so adversely affected.
Where a suit was brought to prevent the Electoral Act (Amendment) Bill 2018 from being made a law on the sole ground that Section 25 therein amounts to a takeover by the National Assembly of the power vested on the party in the suit (Independent National Electoral Commission) by item 15(a) of the Third Schedule of the 1999 Constitution of the Federal Republic of Nigeria (As amended), to organize and hold the general elections to certain offices.
It was decided that the other party did not show that the proposed amendment affected any of its rights or interest as a political party in any way. See the case of Adesanya v. President, F.R.N. (1981) 2 NCLR 358.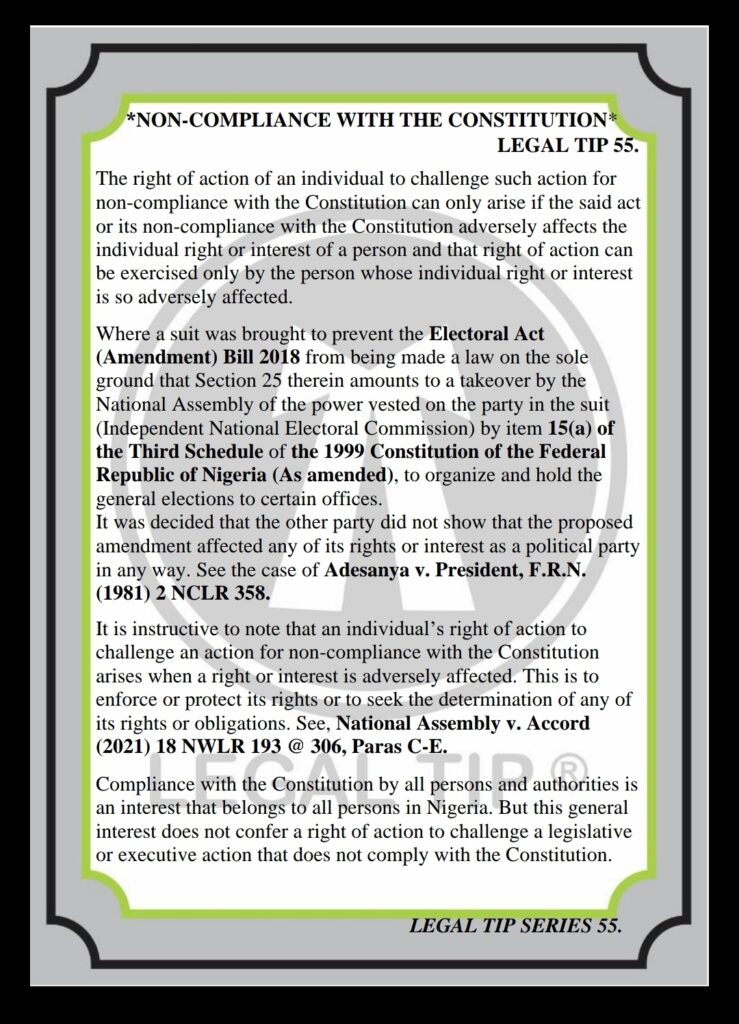 It is instructive to note that an individual's right of action to challenge an action for non-compliance with the Constitution arises when a right or interest is adversely affected. This is to enforce or protect its rights or to seek the determination of any of its rights or obligations. See, National Assembly v. Accord (2021) 18 NWLR 193 @ 306, Paras C-E.
Compliance with the Constitution by all persons and authorities is an interest that belongs to all persons in Nigeria. But this general interest does not confer a right of action to challenge a legislative or executive action that does not comply with the Constitution.
LEGAL TIPS is anchored by Ms CIA Ofoegbunam, an Abuja-based lawyer who is passionate about legal practice.LEGAL TIPS offers quick hints on substantive law, as well as rules of practice and procedure, and serves as a handy reference guide to lawyers, especially in court.Published on a weekly basis, the LEGAL TIPS Series is CIA's modest contribution to legal development in Nigeria.