Counsel to the defendant in a suit joined issues with the Claimant's Counsel stating that in a lease or tenancy for a fixed term, all that a landlord is required to do to recover possession is to serve on the tenant seven days' notice of owner's intention to apply to court to recover possession, relying on the Court of Appeal authorities of Abdulaziz v. Garba (2021) 3 NWLR (Pt. 1764) 379; Splinters (Nig.) Ltd. v. Oasis Finance Ltd (2013) 18 NWLR (Pt. 1385) 188, and Ihenacho v. Uzuchukwu (1997) 2 NWLR (Pt. 487) 257.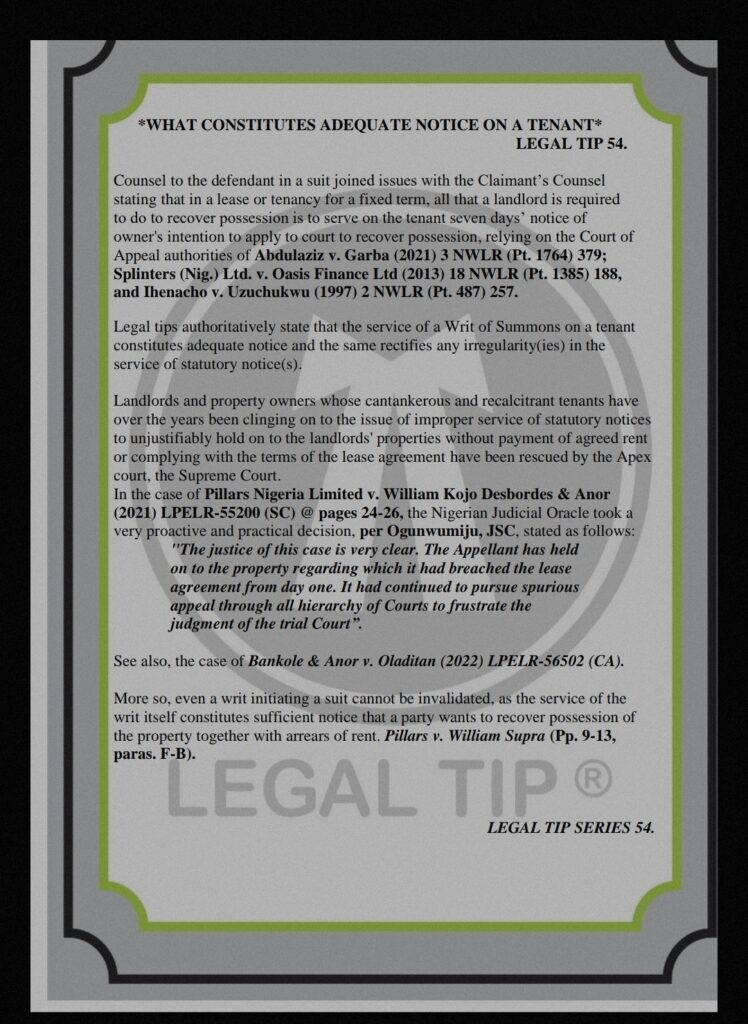 Legal tips authoritatively state that the service of a Writ of Summons on a tenant constitutes adequate notice and the same rectifies any irregularity(ies) in the service of statutory notice(s).
Landlords and property owners whose cantankerous and recalcitrant tenants have over the years been clinging on to the issue of improper service of statutory notices to unjustifiably hold on to the landlords' properties without payment of agreed rent or complying with the terms of the lease agreement have been rescued by the Apex court, the Supreme Court.
In the case of Pillars Nigeria Limited v. William Kojo Desbordes & Anor (2021) LPELR-55200 (SC) @ pages 24-26, the Nigerian Judicial Oracle took a very proactive and practical decision, per Ogunwumiju, JSC, stated as follows:
"The justice of this case is very clear. The Appellant has held on to the property regarding which it had breached the lease agreement from day one. It had continued to pursue spurious appeal through all hierarchy of Courts to frustrate the judgment of the trial Court".
See also, the case of Bankole & Anor v. Oladitan (2022) LPELR-56502 (CA).
More so, even a writ initiating a suit cannot be invalidated, as the service of the writ itself constitutes sufficient notice that a party wants to recover possession of the property together with arrears of rent. Pillars v. William Supra (Pp. 9-13, paras. F-B).
LEGAL TIPS is anchored by Ms CIA Ofoegbunam, an Abuja-based lawyer who is passionate about legal practice. LEGAL TIPS offers quick hints on substantive law, as well as rules of practice and procedure, and serves as a handy reference guide to lawyers, especially in court. Published on a weekly basis, the LEGAL TIPS Series is CIA's modest contribution to legal development in Nigeria