Justice is not a game of hide and seek, but an attempt, with human imperfections in tow to discover the truth. Nyako v. A.S.H.A. (2017) 6 NWLR (Pt. 1562) 347.
Justice is not a one-way traffic, nor even a two-way traffic. It is really a three-way traffic. That is, Justice for the accused, Justice for the victim of the crime and Justice for the society whose social norms and values had been desecrated and broken by the criminal act complained of.
It is in the interest of Justice that the truth of the case should be known and that if the accused is properly tried and found guilty, that he should be punished.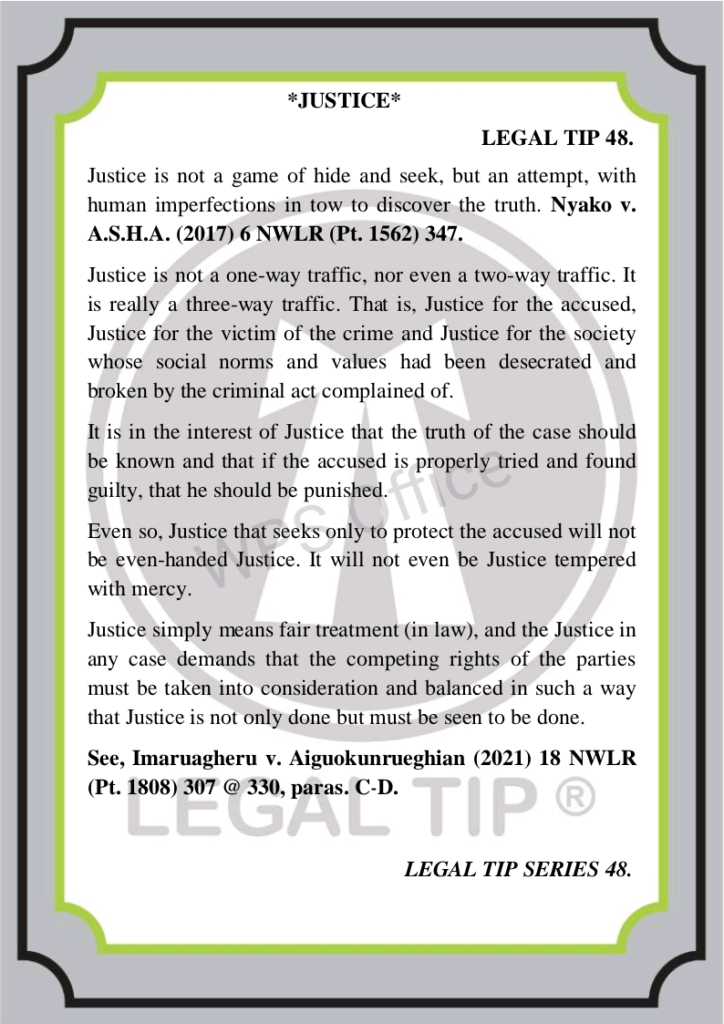 Even so, Justice that seeks only to protect the accused will not be even-handed Justice. It will not even be Justice tempered with mercy.
Justice simply means fair treatment (in law), and the Justice in any case demands that the competing rights of the parties must be taken into consideration and balanced in such a way that Justice is not only done but must be seen to be done.
See, Imaruagheru v. Aiguokunrueghian (2021) 18 NWLR (Pt. 1808) 307 @ 330, paras. C-D.
LEGAL TIPS is anchored by Ms CIA Ofoegbunam, an Abuja-based lawyer who is passionate about legal practice.LEGAL TIPS offers quick hints on substantive law, as well as rules of practice and procedure, and serves as a handy reference guide to lawyers, especially in court.Published on a weekly basis, the LEGAL TIPS Series is CIA's modest contribution to legal development in Nigeria

.