"Equities" are treated as a group in order to solve certain questions of priorities. These questions of priorities occur in relation not only to land but also to personality, though the policy in respect of land and personality may well be different. A general distinction exists between the bona fide purchaser of a legal, and of equitable interest in property.
The purchaser of equitable interest does not have a legal right, he does, however, take free of equities, if he has no notice of interest. However, the principle in equity that interests rank in order of creation, only applies where the equities are equal. Ugbo v. Aburime (1994) 8 NWLR (Pt. 360) 462; KACHALLA V. BANKI (2001) 10 NWLR (Pt. 721) 442
A registrable but unregistered instrument is evidence of payment or receipt and, if coupled with possession, it raises equitable interest in the land. If there is proof that money was paid for land coupled with entry into possession, it is sufficient to defeat the title of a subsequent purchaser of the legal estate provided possession is continuously maintained. In effect, if the land is sold to a part without execution of a deed of conveyance the interest he thus acquires is no more than an equitable one.
However, the underlining factor is possession. The Legal estate of a subsequent purchaser would take precedence if the person with a mere equitable interest is not in possession.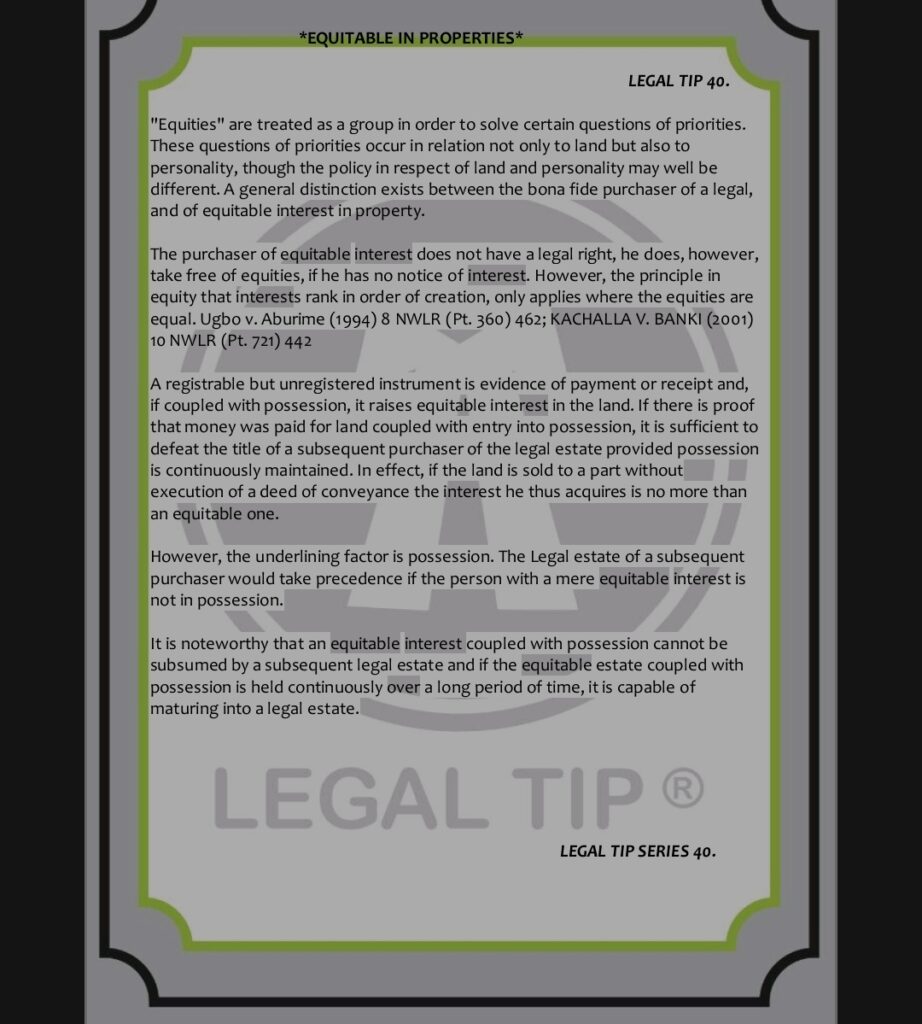 It is noteworthy that an equitable interest coupled with possession cannot be subsumed by a subsequent legal estate and if the equitable estate coupled with possession is held continuously over a long period of time, it is capable of maturing into a legal estate.