A lawyer was briefed by a client (purchaser) to make out legal documents for specific transactions, which the client used to close a land deal. Amongst the instruments, were the bill of charges of the payment of a 5% charge of the entire sum of sale due particularly to the agent/real estate broker; and the sum of #100,000.00 (One Hundred Thousand Naira) bill for the administration of the instrument (Deed of Assignment).
Note that neither the agent/real estate broker nor the purchaser was a party to the various instruments prepared.
This is indeed preposterous, to say the least, that a lawyer would exchange a well thought of, drafted, and signed document with an agent/real estate broker for measly pennies to stay afloat. This is likened to where an agent calls upon a lawyer to aid it in performing services it cannot legally perform.
It is improper for a lawyer to prepare such documents as a lawyer and client relationship should come about with direct engagement. No intermediary should intervene. Lawyers are enjoined to discourage aiding the use of professional services or name to be used for the unauthorised practice of law by persons not qualified to practice nor share legal fees with a non-lawyer.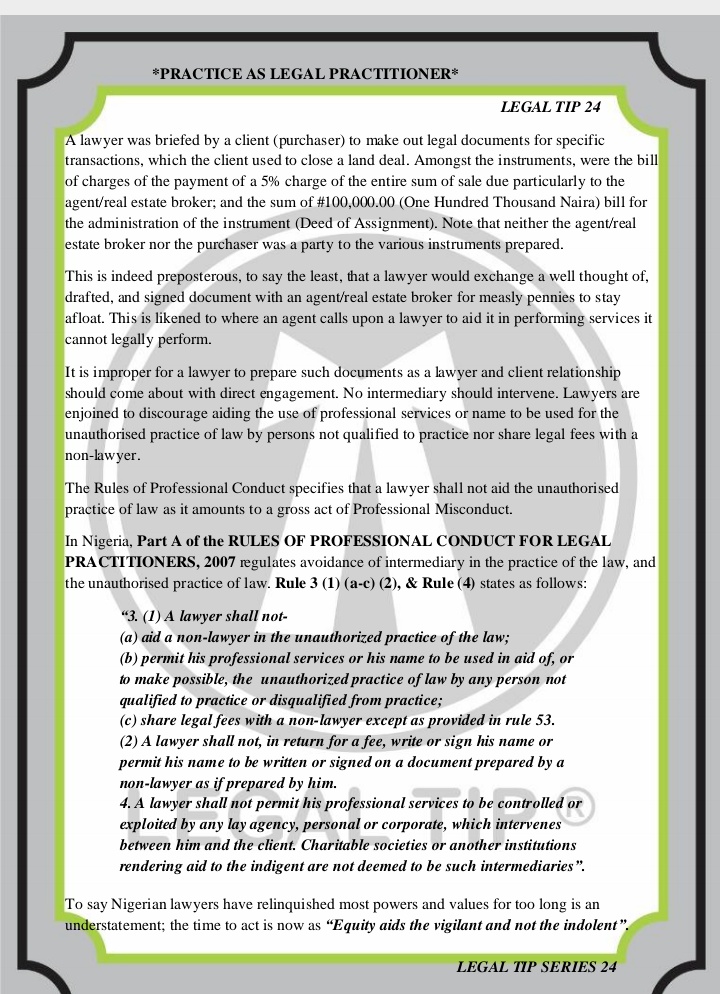 The Rules of Professional Conduct specifies that a lawyer shall not aid the unauthorised practice of law as it amounts to a gross act of Professional Misconduct.
In Nigeria, Part A of the RULES OF PROFESSIONAL CONDUCT FOR LEGAL PRACTITIONERS, 2007 regulates avoidance of intermediary in the practice of the law, and the unauthorised practice of law. Rule 3 (1) (a-c) (2), & Rule (4) states as follows:
"3. (1) A lawyer shall not-
(a) aid a non-lawyer in the unauthorized practice of the law;
(b) permit his professional services or his name to be used in aid of, or to make possible, the unauthorized practice of law by any person not qualified to practice or disqualified from practice;
(c) share legal fees with a non-lawyer except as provided in rule 53.
(2) A lawyer shall not, in return for a fee, write or sign his name or permit his name to be written or signed on a document prepared by a non-lawyer as if prepared by him.
A lawyer shall not permit his professional services to be controlled or exploited by any lay agency, personal or corporate, which intervenes between him and the client. Charitable societies or another institutions rendering aid to the indigent are not deemed to be such intermediaries".
To say Nigerian lawyers have relinquished most powers and values for too long is an understatement; the time to act is now as "Equity aids the vigilant and not the indolent".
LEGALTIPS is anchored by Ms CIA Ofoegbunam, an Abuja-based lawyer who is passionate about legal practice.
LEGALTIPS offers quick hints on substantive law, as well as rules of practice and procedure, and serves as a handy reference guide to lawyers, especially in court.
Published on a weekly basis, the LEGALTIPS Series is CIA's modest contribution to legal development in Nigeria.