A request for the postponement of a legal proceeding was made by the Defendant's Counsel in a lawsuit. The request for adjournment was met with an opposition because the information was not communicated to the Claimant's Counsel or the Court officially.
Part D of the Rules of Professional Conduct for Legal Practitioners, 2007 regulates the relationship with the court. Rule 31(5) states as follows: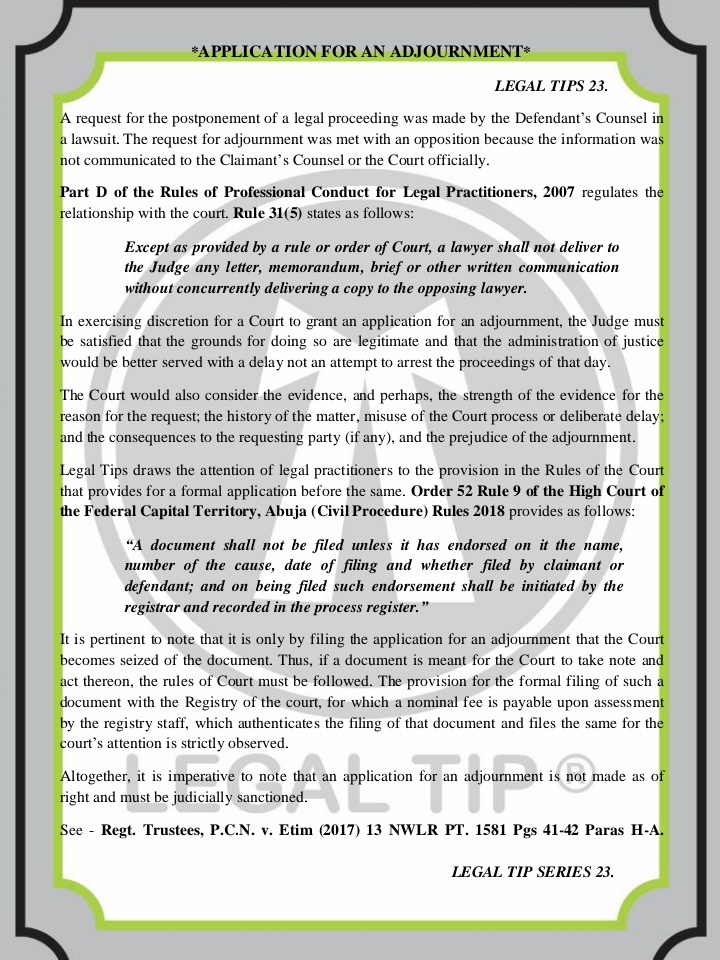 Except as provided by a rule or order of Court, a lawyer shall not deliver to the Judge any letter, memorandum, brief or other written communication without concurrently delivering a copy to the opposing lawyer.
In exercising discretion for a Court to grant an application for an adjournment, the Judge must be satisfied that the grounds for doing so are legitimate and that the administration of justice would be better served with a delay not an attempt to arrest the proceedings of that day.
The Court would also consider the evidence, and perhaps, the strength of the evidence for the reason for the request; the history of the matter, misuse of the Court process or deliberate delay; and the consequences to the requesting party (if any), and the prejudice of the adjournment.
Legal Tips draws the attention of legal practitioners to the provision in the Rules of the Court that provides for a formal application before the same. Order 52 Rule 9 of the High Court of the Federal Capital Territory, Abuja (Civil Procedure) Rules 2018 provides as follows:
"A document shall not be filed unless it has endorsed on it the name, number of the cause, date of filing and whether filed by claimant or defendant; and on being filed such endorsement shall be initiated by the registrar and recorded in the process register."
It is pertinent to note that it is only by filing the application for an adjournment that the Court becomes seized of the document. Thus, if a document is meant for the Court to take note and act thereon, the rules of Court must be followed. The provision for the formal filing of such a document with the Registry of the court, for which a nominal fee is payable upon assessment by the registry staff, which authenticates the filing of that document and files the same for the court's attention is strictly observed.
Altogether, it is imperative to note that an application for an adjournment is not made as of right and must be judicially sanctioned.
See – Regt. Trustees, P.C.N. v. Etim (2017) 13 NWLR PT. 1581 Pgs 41-42 Paras H-A.
LEGALTIPS is anchored by Ms CIA Ofoegbunam, an Abuja-based lawyer who is passionate about legal practice.
LEGALTIPS offers quick hints on substantive law, as well as rules of practice and procedure, and serves as a handy reference guide to lawyers, especially in court.
Published on a weekly basis, the LEGALTIPS Series is CIA's modest contribution to legal development in Nigeria.