In the course of representation of a client, if the client deliberately disregards instructions or an obligation as to payment of expenses; Counsel may withdraw his engagement, and such withdrawal is justified. Unless there is a prior agreement to the contrary, Counsel shall refund part of the fees as has not been earned.
The Rules of Professional Conduct specifically make provisions for a refund, and the departure from it or the noncompliance with this is gross professional misconduct.
The Legal Tips draws the attention of lawyers carrying on practice as Legal Practitioners to the provision in the Rules of Professional Conduct that states that refund of fees is mandatory and nonconformity certainly violates Rule 21(4) of Rules of Professional Conduct.
Part B, Rule 21(4) RULES OF PROFESSIONAL CONDUCT FOR LEGAL PRACTITIONERS 2007 States as follows:
21.
(4) Where the lawyer withdraws from an employment after a fee had been
paid, he shall refund such part of the fee as has not been clearly earned.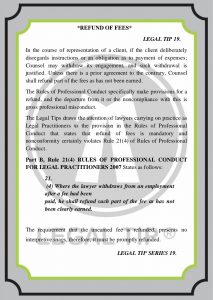 The requirement that the unearned fee is refunded, presents no interpretive snags, therefore, it must be promptly refunded.
LEGALTIPS is anchored by Ms CIA Ofoegbunam, an Abuja-based lawyer who is passionate about legal practice.
LEGALTIPS offers quick hints on substantive law, as well as rules of practice and procedure, and serves as a handy reference guide to lawyers, especially in court.
Published on a weekly basis, the LEGALTIPS Series is CIA's modest contribution to legal development in Nigeria.