The law is trite that once a property is in dispute, no one can dispose of the property until the court decides on the same. It maintains the status quo.
In BAU V. DAUDA (2003) 13 NWLR (PT. 838) PG 657 AT685, PARAS. A-B, SC, the Supreme Court held thus;
"where litigation is being prosecuted in regard to a property and one of the parties' purports to transfer, by sale, the legal estate in that property to a third party who may have no notice of the litigation, the transaction or sale is ineffective. See Osagie v. Oyeyinka (1987) 2 NSCC 840 at 849. That purchaser gets nothing because the doctrine is not founded upon the fact of actual or constructive notice of the litigation but upon the fact that the law does not allow to any litigant party rights to alienate property in dispute while proceedings are pending so as to prejudice the opposite party: see Bank of Nigeria Ltd v. Ashiru (1978) 6-7 SC 99."
Correspondingly, the proprietary of a party proceeding to the sale of a property that is sub-judiced by litigation is in the negative because any sale of the property is caught by the principle or doctrine of lis pendens. Thus, a sale or conveyance of property in dispute by either side to litigation which is made pendente life as in the present case, the purported sale or purchase would be ineffective and must be set aside as void. 

    The doctrine of lis pendens affects the parties, the subject matter of litigation during the pendency of such litigation as parties to the suit are not allowed or given any right in the property in dispute pending the litigation as that would prejudice the opposite party.

    The case of OGUNSOLA V. N.I.C.O.N. (1991) 4 NWLR (PT.188) 762 AT 771 PARA D-E.  
    also held that; 
"where a party during the currency of the suit purports to transfer the legal estate in the property, subject of the suit, to a third party by sale of the same, the transaction of sale is ineffective to transfer the legal estate to such third party."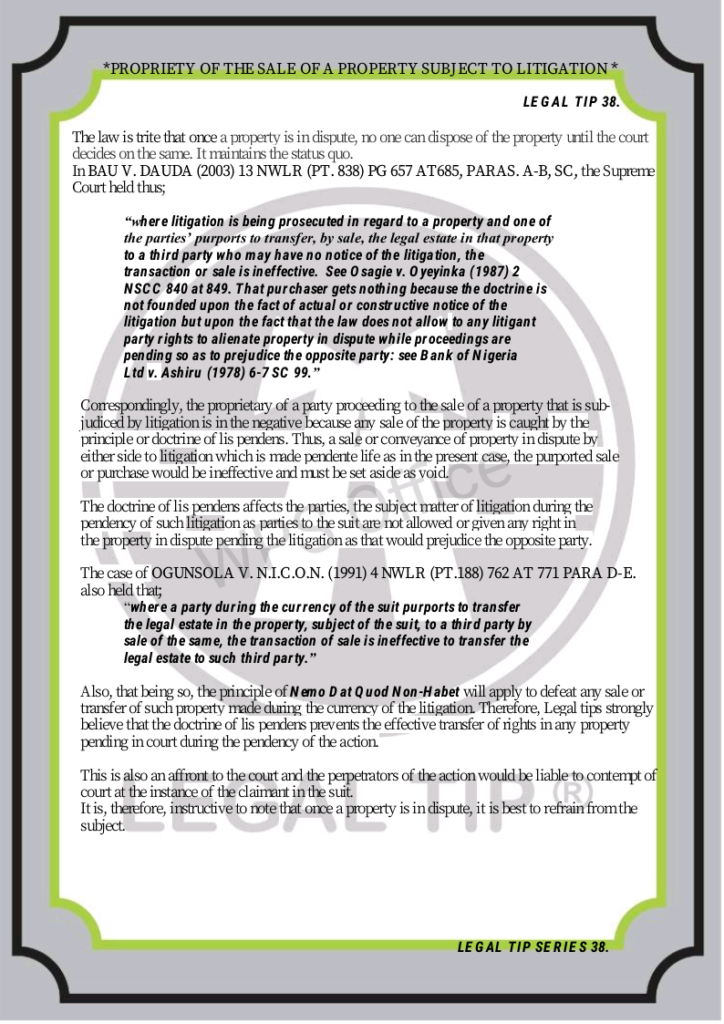 Also, that being so, the principle of Nemo Dat Quod Non-Habet will apply to defeat any sale or transfer of such property made during the currency of the litigation. Therefore, Legal tips strongly believe that the doctrine of lis pendens prevents the effective transfer of rights in any property pending in court during the pendency of the action.
This is also an affront to the court and the perpetrators of the action would be liable to contempt of court at the instance of the claimant in the suit.
It is, therefore, instructive to note that once a property is in dispute, it is best to refrain from the subject.
LEGALTIPS is anchored by Ms CIA Ofoegbunam, an Abuja-based lawyer who is passionate about legal practice.LEGALTIPS offers quick hints on substantive law, as well as rules of practice and procedure, and serves as a handy reference guide to lawyers, especially in court.Published on a weekly basis, the LEGALTIPS Series is CIA's modest contribution to legal development in Nigeria.